Rupee weakens ahead of key US monthly jobs data later in the day.
The Indian rupee weakened on Friday, giving up some of its 1.6 percent gain against the dollar in the previous session, as some of the euphoria that greeted the debut of a new Reserve Bank of India (RBI) governor dissipated ahead of key U.S. monthly jobs data later in the day.
The partially convertible rupee opened at 66 and was trading at 66.01/02 by 10.30 am steady from its previous close after moving in a 65.80 to 66.3150 range so far in the session.
Raghuram Rajan-effect: Indian rupee jumps 106 paise against US dollar
Governor Raghuram Rajan unveiled a slew of proposals to support the rupee and open up markets on Wednesday, his first day in the job, providing a breath of fresh air from a former chief economist of the International Monetary Fund widely known for his financial expertise.
Still, traders say the government will ultimately need to do its part by passing politically tough reforms that are seen needed to fix the economy, even with general elections due by next May.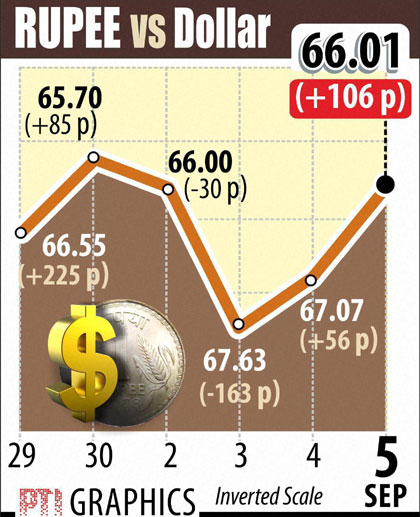 The need to act is seen by markets as pressing ahead of a potential burst of volatility in global markets, given the prospects of U.S. monetary stimulus tapering and of limited U.S. military strikes on Syria, which are pushing up oil prices and inflating India's oil import bill.
"The Governor's action plan was well accepted by market participants," said Shakti Satapathy, a fixed income strategist with AK Capital.
"But the key would be the government's intent in addressing the CAD (current account deficit) and subsidy burden at a faster pace amidst positive U.S data points that might lead to an early exit by Fed's from the stimulus measures," he added.
U.S. non-farm payrolls are expected to have increased by 180,000 jobs last month, according to a Reuters survey of economists, up from a gain of 162,000 in July, potentially paving the way for the Federal Reserve to start cutting back its bond purchases progamme later this month.
Fears of such tapering have roiled emerging markets such as India for months, prompting foreign investors to sell currencies, stocks and bonds, which has supported the dollar against other currencies.
The BRICS emerging economies will set up a $100 billion fund to steady currency markets, Russian President Vladimir Putin said on Thursday, but it looks unlikely to be in place soon enough to temper the effects of any pullback of U.S. monetary stimulus.
Still, traders in India are now anticipating a period of relative consolidation as they await steps from a government whose measures so far, including steps to curb gold imports, have failed to impact markets much.
The RBI is also expected to intervene heavily should the rupee weakens towards the record low of 68.85 touched on August 28. Despite Thursday's gains, the currency has still tumbled nearly 17 percent so far this year.
In the offshore non-deliverable forwards, the one-month contract was at 66.93 compared to the onshore contract at 66.53, suggesting offshore players remain bearish about the outlook for the currency.