After the Doha Round impasse exposed the internal contradictions in the World Trade Organisations (WTO) style of functioning, India has proposed a near-radical package for reforming the world body. The proposals include an institutionalised mechanism to give additional trade-related incentives to poor countries, more frequent meetings of various WTO committees, and a single window for sourcing information on non-tariff barriers (NTBs) imposed by countries.
Almost all member countries have in-principle supported Indias proposals that seek to make the organisation more relevant, vibrant and user-friendly. Members like China, US and the EU have formally endorsed Indias reform model.
The proposals are now part of the ministerial meeting agenda. The three-day ministerial, starting in Geneva on November 30, will be attended by over 150 trade ministers.
Analysts say the move would enhance Indias clout at the apex word trade body, where influences are now determined by the quantum of share that a nation has in word trade. With its meagre 1.4% share of the world trade, India is denied a say proportionate to its population and potential in WTOs functioning.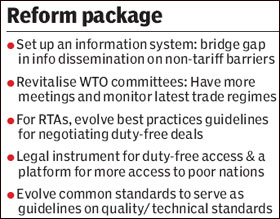 The move will help India shed the deal-breaker image at the WTO. The country hosted an informal meeting of trade ministers to break the Doha deadlock here in September, which somewhat silenced those who saw a disruptive role for India at multilateral for a.
The ministerial in Geneva, coming after four years, will discuss a range of house keeping issues related to the WTO and the meltdowns impact on global trade. Though there would be no negotiations on the Doha Round, the ministers will take a stock of the negotiations that resumed after New Delhis initiative this September.
Since then, chief negotiators of the countries have been meeting every month to take the negotiations forward. The reforms that India has proposed, titled Strengthening the WTO, have a five-point agenda. They seek to establish a more efficient information dissemination system at the WTO and better functioning of committees monitoring specific areas, like trade in industrial goods or farm products. The proposals also envisage an efficient mechanism that institutionalises additional trade-related incentives to poor countries.
If accepted, the proposal could lead to more frequent meetings of the various committees and better information dissemination on non-tariff barriers that impede global trade. It will also lead to a more stable and predictable regime offered by developed nations in terms of preferential market access to poor countries.
The proposals have been endorsed by Australia, Brazil, Canada, China, Hong Kong, European Union, Japan, Korea, Malaysia, Mauritius, Mexico, Norway, South Africa, Switzerland, Turkey, United States and Uruguay. The 54-nation Africa Group has also backed Indias proposals.