FIIs have bought over $20 billion worth of Indian equities so far in CY13. Reuters photo
Despite receiving the third-highest inflows from foreign institutional investors (FIIs), Indian equities feature among the worst-performing markets in the world this calendar year. While FIIs have bought over $20 billion worth of Indian equities so far in CY13, the Sensex has given returns of -3.5% in dollar terms, Bloomberg data show. The 50-share Nifty has fared even worse, giving returns of -5.5%.
Buying a new car check prices
The indices that have outperformed Indian ones include the Nikkei 225 index with returns of 28.92% against FII inflows of $149 billion, followed by Taiex (7.43%), Hang Seng (2.53%) and Kospi (1.16%). The performance of the Stock Exchange of Thailand index (-13.35%) and the Jakarta Composite (-22.5%) have been worse than that of Indian markets, data show.
In local currency terms, the performance of Indian indices has been mixed. The Sensex and Nifty have given positive returns in the range of 7-9%. While the returns by Indian markets are superior than those of Brazil (-15.9%), Russia (1.95%) and China (-7.5%), the performance lags when compared with Taiwan (11%), South Africa (16.5%) and most developed markets like the US, UK, France, Germany and Japan (15-55%).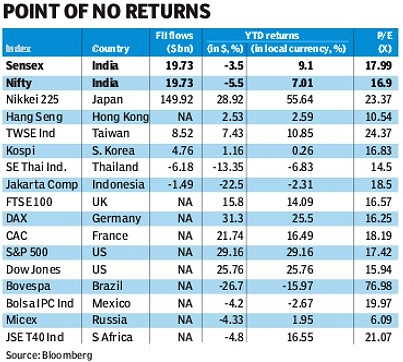 According to Bloomberg data, Indian equities have received FII inflows to the tune of $19.8 billion since January 1, 2013, the third-highest flows by foreign portfolio investors. FIIs had pumped in about $24.5 billion into Indian equities last year and $29.3 billion in CY10.
Experts say there is no direct correlation between FII inflows and dollar returns of Indian markets but point out that the Indian currency continues to pose challenges. Lack of clarity on the tapering off of the quantitative easing (QE) policy as well as domestic issues like the elections and government stability will affect the flow of foreign money into India.
As long as interest rates in developed markets remain low, and India emerges more growth-oriented or remains a safer place to invest, foreign flows should remain steady. Next years elections are key to our markets, said Avinash Gupta, senior director and leader, financial advisory, Deloitte Touche Tohmatsu India.
Analysts attributed the stark difference in dollar and rupee returns to sharp deterioration in the rupee due to fears of tapering of US QE. Further, problems heightened when lawmakers were unable to control Indias twin deficits, inflation, and also failed to pass crucial reforms.
The Indian rupee lost nearly 30% against the dollar between May and August. For the year, the Indian unit is still down 15% against the greenback, data show.
The Sensex is trading at a multiple of about 18 times. The market has to see real economic traction, such as increase in consumption and infrastructure spending for the rally to sustain and markets to outperform, said Vinay Khattar, vice-president and head, research, Edelweiss Capital Markets.
Experts also highlighted that FII inflows have been more specific to frontline stocks and the performance outside of benchmark indices only shows more weakness in Indian equities.
For instance, the BSE 100 index has given returns of 5.9% in rupee terms and -6.2% in dollar returns so far this calendar year. The BSE Mid-cap and BSE Small-cap have given returns of -17.05% and -22% in dollar terms, respectively, as a majority of the companies were vulnerable and unprotected to currency risks, data show.
However, a section of the market believes the economy has bottomed out and with possible reversal in interest rates, Indian markets will continue to receive foreign inflows. Considering that risk appetite would increase in global markets and India is still one of the fastest-growing emerging economies, it would continue to draw a fair chunk of the FII flows in the Asian markets," said Ankit Agarwal, vice-president and fund manager, Centrum Broking.