A rocket carrying the Mars orbiter takes off from Sriharikota. The Indian spacecraft is due to slip into Martian orbit on Wednesday morning. (PTI)
India today created space history by successfully placing its low-cost Mars Orbiter Mission spacecraft 'Mangalyaan' in orbit around the Red Planet in its very first attempt, catapulting the country into an elite club of three nations.
Watched by Prime Minister Prime Minister Narendra Modi, ISRO scientists successfully ignited the main 440 Newton Liquid Apogee Motor (LAM) and eight small thrusters that fired for 24-minutes from 7.17 AM and slowed down the speed of Mars Orbiter Mission (MOM) spacecraft 'Mangalyaan' for it to slip into a smooth orbit around the Red Planet after almost an year-long voyage.
"Today MOM has met Mangal (Mars). Today Mangal has got MOM. The time this mission was short named as MOM, I was sure that MOM wont disappoint us," Modi, who wore a red coloured jacket, said annnouncing the Rs 450 crore mission's success, after nerve-wracking final moments at the command centre of Indian Space Research Organisation(ISRO) here.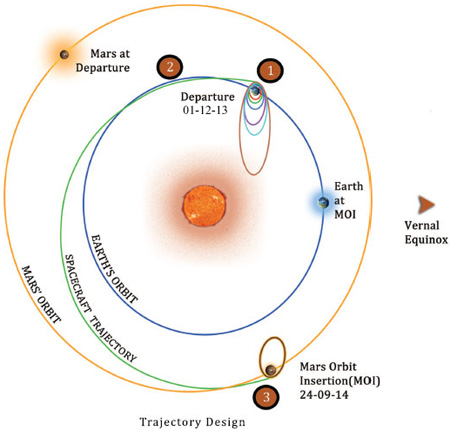 With the success of "Mangalyaan", India has become the first country to go to Mars in the very first try. European, American and Russian probes have managed to orbit or land on the planet, but after several attempts. The first Chinese mission to Mars, called Yinghuo-1, failed in 2011. Earlier in 1998, the Japanese mission ran out of fuel and was lost.
Mars Orbiter Insertion was carried out automatically by commands loaded onto the spacecraft after its velocity was slowed down from 22.1 km per second to 4.4 km per second to be captured by the Martian orbit.
The spacecraft had entered the Martian neighbourhood on Monday.
At the time of MOM's orbital insertion, its signals took about 12 minutes and 28 seconds to travel to Earth for reception by NASA's Deep Space Network Stations in Canberra and Goldstone that relayed the data in real time to ISRO's station here.
The first sign of success in the final moments came when ISRO announced that burn of engines on India's Mars orbiter had been confirmed. "All engines of Mars orbiter are going strong. Burn confirmed," said ISRO signalling that history was in the making.
Igniting the main engine was critical as it had been lying in slumber for about 300 days and was woken up briefly for four seconds on Monday.
It was a make or break tricky manoeuvre as even the slightest error would have pushed the orbiter into deep depths of space.
Much of the spacecraft's manoeuvre took place behind Mars, as seen from Earth. This meant that from a point four minutes into the Mars Orbiter Insertion (MOI) burn until three minutes after the scheduled end of the manoeuvre, teams on Earth had no insight into the spacecraft's progress.
The orbiter will keep moving in an elliptical path at least for six months with its instruments sending their gleanings back home.
The success in placing the spacecraft in the Martian orbit has made India the fourth space power after the United States, Europe and Russia to orbit or land on the Red Planet.
The Rs 450-crore Mangalyaan aims to study Mars' surface and mineral composition, and scan its atmosphere for methane, a chemical strongly tied to life on Earth.
The spacecraft was launched on November 5, 2013 on homegrown PSLV rocket from Sriharikota in Andhra Pradesh on its nine-month long odyssey. It had escaped the earth gravity pull on December 1, 2013.
India's MOM is the cheapest inter-planetary mission. It cost about a tenth of NASA's Mars mission Maven that entered the Martian orbit on September 22.
The 1,350 kg spacecraft is equipped with five instruments including a sensor to track methane or marsh gas - a possible sign of life, a colour camera and a thermal imaging spectrometer to map the surface and mineral wealth of the Red Planet.
US' NASA and its MAVEN team have congratulated ISRO on its Mars arrival, the Indian space agency said.