India beats Japan to become world's third largest economy in terms of purchasing power partiy (PPP).
India is now the world's third largest economy in terms of purchasing power parity, ahead of Japan and behind the US and China which hold the top two spots. This was revealed by the 2011 round of the World Bank's International Comparison Program (ICP) released on Tuesday.
"The United States remained the worlds largest economy, but it was closely followed by China when measured using PPPs. India was now the worlds third largest economy, moving ahead of Japan," the report said. (Read report)
It highlighted the fact that the largest economies were not the richest, as shown in the ranking of GDP per capita. The middle-income economies with large economies also had large populations, setting the stage for continued growth, it added.
The report says India "went from the 10th largest economy in 2005 to the third largest in 2011.
Incidentally, the economies of Japan and the United Kingdom became smaller relative to the United States, while
Germany increased slightly and France and Italy remained the same.
The relative rankings of the three Asian economiesChina, India, and Indonesiato the United States doubled, while Brazil, Mexico, and Russia increased by one-third or more.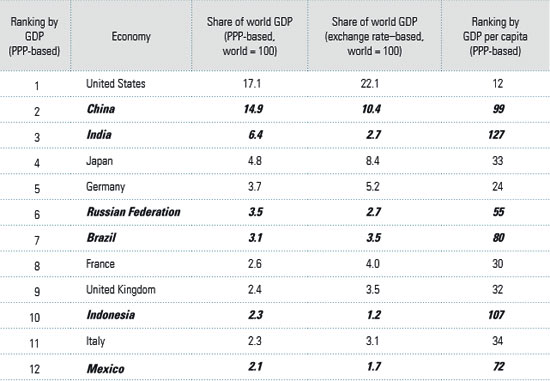 Table: Twelve largest economies by share of World GDP, ICP 2011