The number of Indian companies registering in Singapore has almost quadrupled since 2005 when the Comprehensive Economic Cooperation Agreement (CECA) came into force, thus making the Indian business community the largest foreign business community in Singapore. Engkeat Lee, international director (Asia Pacific), Singapore Economic Development Board told FE, In 2001-2002, number of Indian companies in Singapore stood at 1,100 whereas in 2009-10, the number went up to 4,100.
According to Lee, some of the major Indian companies in Singapore are Tata Group, Gati, Transport Corporation of India, Punj Llyod, Wipro, TCS, HCL Technologies, Mahindra Satyam. Lee said are out of the 36,400 international companies in Singapore, there are 4,090 are Indian, constituting about 11.2% of the total foreign firms operating out of Singapore.
Singapore has been ranked second in terms of FDI inflows into India with $2.9 billion invested in 2009. India is the seventh largest investor in Singapore with foreign direct investment jumping eight-fold from 2005 to reach S$11 billion in 2008, said Lee.
Lee said, We are trying to encourage professional bodies like accounting and legal to come to an agreement on standards that are recognised from both sides to facilitate the flow of services sectors in both countries. Singapore can be the ideal location for companies to locate some of their key decision makers to feel the pulse, spot opportunities and leverage the network of relationships in the region. Companies find in Singapore a stable and trusted base where they can exploit their knowledge and assets, undertake key activities which give them a competitive advantage, as well as drive their growth from Asia.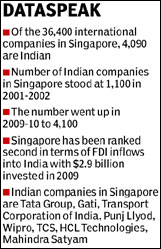 The CECA was signed in 2005 to facilitate trade and investment between the two countries. The agreement encompasses trade in goods and services, investment protection features as well as cooperation chapters. Lee said, Since then, total trade with India has increased at a rate of 20% annually, peaking at S$28.8 billion in 2008. India is Singapores eleventh largest trading partner in 2009.
The first CECA review was completed in 2007 and focused on implementation issues. The second one intended to be more comprehensive with a view to improve goods, services and investment chapters.