India Inc is on a bonus spree. A host of companies such as ITC, MMTC, Orbit Corporation and Edelweiss Capital have announced bonus issues in the last 10 days.
As many as 19 companies have come out with bonus issues in the first quarter of 2010-11 compared with five in the same period last year.
Companies that have issued bonus shares this quarter include Wipro, Sterlite Industries, Engineers India and Cadila Healthcare.
Experts attribute the trend to better-than-expected fourth quarter results, which has given companies the confidence to tap into their reserves, convert it into equity capital and increase the equity base.
Though retail investors in India are generally gung-ho about bonus shares, experts feel that bonus issues are just a book entry and do not directly benefit shareholders.
Retail investors get excited and feel as if they have been awarded something free. In reality, there is no value addition since there is no inflow of money, said Vinay Agrawal executive director equities broking, Angel Broking.
A bonus issue does not materially impact the company as its net worth (equity capital plus reserves & surplus) remains the same. However, it can help improve the liquidity of the stock as there are a greater number of shares available for trading.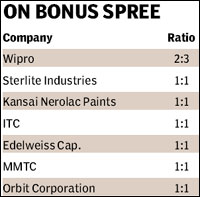 There are indirect benefits, however. There have been instances when stock prices have run-up substantially pre- or post a bonus issue. For example, the MMTC scrip spurted 21% on June 15, a day after its board announced that it would consider a bonus issue. Market participants say this euphoria is generally short-lived. Much of this is just market sentiment and often temporary, said Agrawal.
Bonus shares are sometimes used to offset short-term capital gains tax, say experts. For example, an investor can purchase a stock ahead of the bonus issue, and sell it ex-bonus after the stock price adjusts. Since the stock price will reduce ex-bonus, the transaction can be shown as a loss, which can be offset against short-term capital gains.
Experts point out that maintaining the dividend percentage becomes difficult, post the bonus issue.