India is at the forefront of the rising Web threats, according to Symantec, one of the worlds leading Internet security providers.
Managing director Symantec India Vishal Dhupar in an interview to FE said, While threats are on the rise globally, growing Internet infrastructure, burgeoning broadband population and rampant software piracy have made India a hub for malicious activities.
In tune with the global trends, Symantecs latest Internet Security Threat Report found that India saw a substantial increase in its proportion of malicious activity in almost every category. India had the fifth highest number of broadband subscribers in the Asia-Pacific Japan (APJ) region in 2008 and the third highest volume of malicious activity, with 10% of the regional total.
Mobile threat is a very significant threat vector in India. As mobile devices continue to increase in popularity in 2010, Symantec predicts that more attackers will devote time to create malware to exploit these devices. According to Telecom Regulatory Authority of India (Trai), today over 500 million Indians subscribe to mobile services, with 126.7 million adopting wireless data services. The monthly addition to the mobile subscriber base is about 10 million, more than twice the total subscriber base just a decade ago.
Symantec is committed to securing and managing the information of organisations and individuals world over. We invest 15% of our annual worldwide revenue into research and development, said Dhupar.
According to an IDC study, the number of worldwide mobile workforce will reach 1 billion by 2011 with Asia Pacific contributing the most. Symantec has observed that as more mobile devices access corporate networks, often through unprotected pathways, malware writers and criminals will use this window to gain access to sensitive data. Data loss and data breaches caused by lost or stolen phones is a big challenge, as mobile devices are now used to store confidential business information and access the corporate network, said Dhupar. Smartphones and the growing number of people using them is becoming a bigger target for unauthorised and potentially harmful software, including worms, viruses, and spyware that tracks a users Web activity.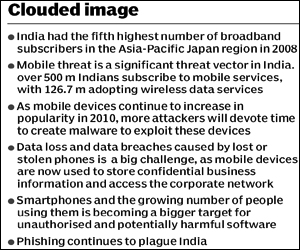 Apart from the issue of worms and viruses, spam and phishing continue to plague India as well as the rest of the world. Over the past one year, Symantec observed a 192% increase in spam detected across the Internet as a whole, from 119.6 billion messages in 2007 to 349.6 billion in 2008. Phishing, which refers to requesting confidential information over the Internet under false pretenses in order to obtain personal data, also continue to grow. In 2008, Symantec detected 55,389 phishing Web site hosts, an increase of 66% over the previous year.