India could face a huge crisis in augmenting milk production, if the acute shortage in fodder supply is not dealt with soon. The fodder crisis may worsen as large areas of Punjab, Haryana, Rajasthan and western Uttar Pradesh have got scanty monsoon rainfall till now.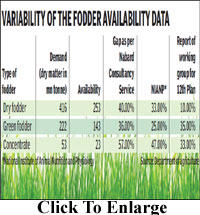 According to the ministry of agriculture assessment, there is a large gap between demand and supply of feed and fodder for the livestock in the country.
The shortage of dry fodder, green fodder and concentrate is as high as 40% and fodder which is being cultivated in only about 4% of the agricultural land is not adequate to meet the requirement of fodder in the country. The problem is compounded by the lack of reliable data regarding fodder availability.
The figure compiled by Nabard Consultancy Service estimates the shortage of green fodder (36%), dry fodder (40%) and feed concentrates (57%).
The scenario appears alarming in case of availability of quality fodder seeds since as per the estimates of National Dairy Development Board (NDDB), about 40,000 tonne of fodder seeds are produced against a demand of about 5.4 lakh tonne annually, the note prepared by the agricultural ministry observed.
Recently, agriculture minister Sharad Pawar directed the animal husbandry, dairying and fisheries department to make modifications in various schemes to impart greater focus on fodder production. For increasing milk production from the current level of 128 mt to 160 mt by 2020, 494 mt of dry fodder, 825 mt of green fodder and 54 mt concentrates will be required, the agriculture ministry note says.
On the deficient monsoon in many states, Pawar said due to acute fodder crisis the standing sugarcane crop is being diverted for cattle feed. Livestock is an integral part of agriculture sector which contribute about 32% of the output.
Meanwhile, according to the India Meteorological Department, the all-India average of rainfall deficiency was 21% till Monday. Saurashtra and Kutch regions are short by 78%, followed by Haryana, Chandigarh and Delhi (71%), and Punjab (67%).
Around 94 districts out of 626 have received scanty rainfall and 306 districts are under deficit. However, crop sowing in 150 districts has been hit very hard.