With land acquisition and environmental clearances proving increasingly difficult for wind power projects, India is exploring the potential for offshore wind power generation.
Deepak Gupta, secretary, ministry of new and renewable energy, told FE that a study is being undertaken with the help of Chennai-based Centre for Wind Energy Technology (C-WET) to ascertain the feasibility of setting up wind farms in Indias offshore areas.We expect to complete the study in 2-3 years, he said.
Apart from hurdles in acquiring 4-5 acres to generate one mega watt of wind power, environmental clearances are not easy to come by. Offshore wind power projects are in vogue in many countries, especially in Europe. Recently, offshore wind farms have cropped up in the US and China as well.
Unit size is high for offshore wind projects. Offshore wind is the next big thing for Indias renewable energy. However, we need to map our wind intensity scientifically, said Charu Datta Palekar, principal consultant, energy advisory services, PWC.
GE, Vestas, Areva Renewables and Suzlon are key manufacturers of turbines for offshore wind power projects. C-WET has sought inputs from leading global suppliers of offshore wind power equipment, sources said. India's offshore areas, especially on the western coast, are believed to have good potential for wind power generation.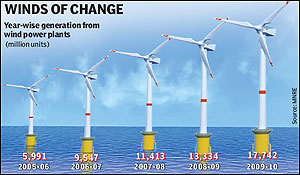 The feasibility study will examine key parameters like wind pattern and sea-bed quality, apart from ascertaining the types of soil testing required before setting up offshore wind power farms. Considering the vulnerability of offshore areas to natural calamities like tsunamis and cyclonic storms, the suitability of material and technology for power equipment would also be studied, sources said.
Analysts do not see any technology hurdles for offshore wind farms, since leading wind power MNCs like Areva Renewables have set up typhoon-resistant offshore wind farms. Speed of wind in offshore areas, though not steady, is much better compared to on-land. Wind could meet 12% of global power demand by 2020 and up to 22% by 2030, according to a recent study by the Global Wind Energy Council and Greenpeace International. Globally, India ranks fifth in terms of installed wind power generation capacity after US, Germany, Spain and China. However, it is yet to tap offshore potential for wind power generation.