In a radical shift in policy stand, the emerging economies spearheaded by India and China have called for an all or nothing approach in the ongoing WTO negotiations. The demand put forth is to bring service negotiations on par with negotiations on Nama and agricultural goodsa move set to create jitters in the developed bloc led by the US.
According to a senior commerce ministry official, India and China have already found support in Brazil and South Africa on the issue. Our demand reflects the change in the environment. After the Doha round (in 2001), a lot has changed and we cannot reach a comprehensive conclusion without a breakthrough in services, he said.
The move is significant since any resolution in the WTO deadlock is seen as duty cuts in agricultural goods and non-agricultural market access. India and China want a comprehensive solution to WTOwhere both services and goods are treated on par, he said.
Since Doha talks failed to materialise in 2001, India and China emerged as significant players in services. In both countries, services account for over 50% of the gross domestic product (GDP). Service sector is the key for India...a mere reduction in tariffs on goods is not enough anymore, he added.
Trade analyst with industry chamber CII Pritam Banerjee said this would give India a strong negotiating position vis-a-vis other countries. Purely from a negotiating standpoint, it makes sense. We need to be holistic in our approach to reach a consensus on WTO, he said.
Indias move could be an attempt to reach a breakthrough, especially in mode 1i.e. supply of services from one country to the other.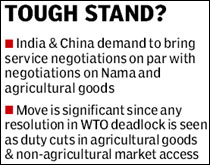 In a signalling conference in Geneva in 2001, many countries had made offers to reach an understanding on services especially on mode 1. Through Indias new negotiating stand we would be looking to ensure a lock-in over the mode 1 offers made, he said. Banerjee explained that no breakthrough could be achieved in mode 4 (movement of working professionals) in a multi-lateral forum like the WTO.
Meanwhile starting September 2010 negotiators from across 153 WTO countries would take part in the Nama week in a bid to reach an understanding on some of the contentious issues.
This would be a technical grouping of countries looking to address issues arising out of NAMA. Negotiations in the WTO on services are carried out through a request offer. As per this countries send requests directly to each other seeking a consensus. This forms a part of the General Agreement on Trade in Services which seeks to gradually liberalise trade in services over a period of time.
A Delhi-based trade analyst who spoke on condition of anonymity said that Indias demand reflects the growing clout of emerging economies vis-a-vis the US. America is the only country that is not fully on the table. They want duty cuts on sectorals which India has indicated is a non-starter. This is one way to put our point across, he said.