Business proposals and $15-billion projects in various sectors are slated to be discussed at the forth-coming India-Arab Investment Projects Conclave next month. The external affairs ministry, Ficci and League of Arab states are jointly organising the second conclave in New Delhi from February 8-9.
Senior MEA officials told FE on conditions of anonymity, The second edition has been envisaged to further build upon the momentum generated by the first conclave, held in April 2008. The mechanism has been institutionalised as mutual investments are important for both sides. It aims to create a long-term economic structure and to provide an ideal platform for investors to discuss business possibilities in India and in Arab countries.
With 17 Arab countries confirming their participation in the meet this year, 10 trade and industry ministers accompanied by high-level business delegation will come to India. Iraqi minister of industry and minerals Fawzi F Hariri will be attending the conclave for the first time.
Specialised Arab trade and business promotion agencies like GUACCIA, GAFI, EDB-Bahrain, Arab Investors Union, Union of Arab banks, Arab Economic Union, Arab organisation for mining and industry, AICTO and OAPEC would also be represented by their senior officials at the meet.
According to MEA officials, ahead of Prime Minister Manmohan Singhs visit to Saudi Arabia soon (dates are still being worked out), investment proposals would also be discussed when a Saudi delegation headed by their deputy minister for trade comes here for the meet.
Indian companies have already invested around $2 billion in the Gulfs largest economy. Reportedly, the UAE emerged as the Indias Arab top trading partner with non-oil trade totalling $ 20 billion.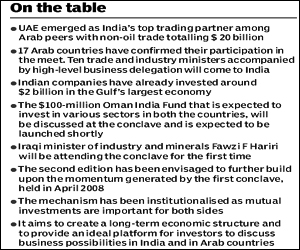 India-Arab trade stood at $46 billion in 2008. Also, the $100-million Oman India Fund that is expected to invest in various sectors in both the countries, will be discussed in the conclave and is expected to be launched shortly. Infact, Oman is looking forward to invest in Indias small and medium enterprises.
With India emerging as global economic power imbued with strong and stable economic fundamentals and capacity to build upon its inherent strengths, there has been a rising interests in Arab countries to proactively engage the resurgent Indian economy for mutual benefits.
Both India and Arab countries have recognised the imperative need for enlarging their trade basket. To remain in sync with the emerging global economic architecture and to retain their economic worthiness, it has become imperative for investors, investment agencies and businesses from both India and the Arab world to initiate the process in which they would be equal partners for ensuring success, Ficci officials told FE.
The conclave will have special addresses by external affairs minister SM Krishna, commerce and industry minister Anand Sharma and minister of state for external affairs Shashi Tharoor.
Indias need for developing its infrastructure would require over $500 billion in the next five years. With fast growing economy and a stable political climate, the situation opens up an opportunity for investment by the Arab Countries in India.
The conclave will have a special focus on sectors including agri and food processing, engineering and construction, banking, venture capital and insurance, oil & gas (upstream and downstream) and infrastructure- rail, road, airports, ports, energy, water, communication etc.