Japan and India are two of the largest democracies in Asia, sharing a commitment to the rule of law and respect for human rights. They are also leading economies in Asia.
In recent years, the two countries have strengthened bilateral ties through new initiatives and programmes ranging from economic and cultural linkages to defence and security. Japan gives 30% of its overseas development assistance to India and is, even in this period of global economic downturn, committing more than $4 billion to the Delhi-Mumbai Industrial Corridor. But our economic relationship is still far below its potential. Two-way trade ($10.18 billion for 2007-08) has risen in the last five years, but still remains considerably low when compared with the China-Japan trade or even the India-China trade (respectively, $237.193 and $37.931 billion in 2007-08). Similarly, Japans foreign direct investment in India for April-March 2008 ($0.82 billion) ill compares to its investment in smaller Asian countries such as Vietnam ($0.41 billion), not to mention China ($1.9 billion).
According to a recent survey conducted by the Japan Bank for International Cooperation, India has become the most favoured investment destination for long-term Japanese investments. While nearly 70% of Japanese manufacturers regarded India as the most attractive country to do business in over the next 10 years or so, only 67% preferred China. Russia came third, with a 37% rating, followed by Vietnam at 28%.
Indias robust economic growth in recent years has not gone unnoticed on the Japanese radar. Its now the sixth-largest FDI facilitator in India. Although Japans contribution to Indias FDI inflow was only 4.29% between 1991-2007, the quantum of investment is rising steadily, especially in the Indian financial market.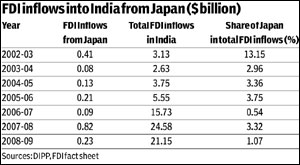 In 2006-07, share of Japan in the total inflows was 0.54%. Next year, it increased to 3.32% but dwindled to 1.07% in 2008-09. In fact, over the years, share of Japan in total inflows of India has been declining. This can be attributed to several factors including the failure of the Japanese investor to understand the Indian consumer.
The analysis of sector wise inflows from Japan shows that automobile sector has received the maximum FDI during 2000-07, constituting nearly 41% of the total FDI inflows from Japan. Other favoured sectors include electrical equipments, trading, services sector and telecommunications. These five sectors together constitute nearly 72% of the total FDI inflows from Japan.
As far as technology transfers are concerned, 863 technical collaborations have been approved for Japan, which accounts for 10.93% of the total collaborations approved from August 1991 to November 2007. The highest technical collaborations have been in the transportation industry followed by the electrical equipments (including computer software & electronics) industry and chemicals (other than fertilisers).
Japan has been one of the top five investors in India for long. However, since 2000, many countries have surpassed Japan in their investment in the Indian economy. This can be attributed to several reasons. In a recent report submitted to the department of industrial policy and promotion, GoI, the Japan Chamber of Commerce and Industry in India (JCCII) has termed the Indian business environment as tough. JCCII has listed 61 issues related to infrastructure, taxation system and customs clearance that need to be settled before more Japanese investors look to India. Japanese investors describe the tax system in India as being too complicated and difficult to understand. Indias land acquisition and utilisation procedures have been termed complicated and non-transparent. Unresolved issues further across IPRs, regulation of foreign capitals and visa concerns. Many clauses in contracts with industrial parks are not honoured, such as those concerning supply of power, water and drainage. Japanese companies have also requested simplification and speeding up of various application procedures related to construction. Language is a major barrier and restricts easy interaction between the business representatives of India and Japan.
Further, Japanese firms like Toshiba, Sanyo and Sharp (with the exception of Sony) have lost out to the competition posed by Korean products. The Koreans appear to have better served the price-sensitive nature of the Indian market. Perhaps Japanese business would do better if it establishes 100% subsidiaries in India, instead of setting up joint ventures with local partners in India. For the many Japanese companies currently in the sunset plane, where current economic compulsions render them non-competitive, there could be a better future in relocating elsewhere. India is a first-class option. Here, there is ample availability of skilled labour at a reasonable cost, a huge domestic market and a potential base for exporting to other countries. Even catering to Japanese needs.
The completion of the comprehensive economic partnership agreement (CEPA) is expected to enhance Japan-India investment relations. Steps being considered include setting up Japanese language teaching cells across Indian universities and using Japanese investment for promoting SME clusters in India.
In the new Asian era, Japan and India need each other. Indias interest in Japan is also attributable to its Look East policy. What cannot be overemphasised is that stronger Indo-Japan ties could help counterbalance Chinas growing power in the region.
The author is fellow, National Council of Applied Economic Research, New Delhi