The state of unemployment in Punjab is alarming, and now the government statistics indicate this too. In just one year, from April 1, 2009 to March 31, 2010 the department of employment generation and training of the state added 67, 587 job seekers on its live registers at employment exchanges.
The department could arrange placements for only 3,855 aspirants, despite the fact that it had notified around 14, 800 vacancies in both public and private sector. The total number of job seekers registered with the employment exchange stood at 4.80 lakh as on March 31, 2010.
To know the exact magnitude of unemployment in the state, the department of employment generation will conduct a survey under the supervision of district administration at district level, said sources.
The door-to-door survey, covering all 20 districts in Punjab, will collect information on educational qualification and economic status of male and female unemployed persons in the age group of 16-40 years. The survey will help the government to form policies for tackling unemployment in the state. The survey is likely to be completed soon, since only Amritsar district is left now. The exercise has been carried out in all other districts. According to sources, the unemployment figure is likely to touch the 10-lakh mark. Deputy director of the department employment generation and training SK Vij told FE, The department has stepped up its efforts to bring down unemployment in the state. Since February, we have organised 29 job fairs across the state. A total of 13,041 job seekers participated in the fair, he said.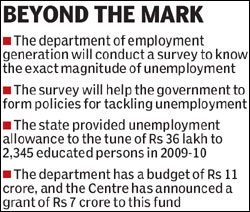 Interestingly 4,500 aspirants secured placements on the spot in various sectors like insurance, retail and shopping malls. Vij said this year, there was greater participation from the industry. In addition to the job fairs, we convened about 90 career conferences, in which we educated the youth on how to choose their career. These conferences saw the participation of more than 48,000 students, he pointed out.
SK Vij informed that the state government provided unemployment allowance to the tune of Rs 36 lakh to 2,345 educated persons during the financial year 2009-10. The department has a budget of Rs 11 crore and the Centre has announced a grant of Rs 7 crore to this fund, which is yet to be released.