Narendra Moid barb may hit Nitish Kumar as in Bihar, there is no district other than capital Patna that escapes the label of most deprived.
The war of words between BJP's PM candidate Narendra Modi and Bihar CM Nitish Modi over the economic state of their respective states may have put development right on top of the agenda for Lok Sabha elections, but a survey shows that things are not better for constituencies represented by Sonia Gandhi, Rahul Gandhi and Mulayam Singh Yadav in Uttar Pradesh.
Of the 113 districts of Uttar Pradesh and Bihar, less than 20 escape the label of most deprived in a ranking of Indias districts by McKinsey Global Institute.
These districts, scene of the elections potentially most decisive contests, are marked in a single, sweeping swathe of red, the code for most described districts, like no other region of India.
According to the report, From poverty to empowerment, 126 districts fall in the category of most deprived on a scale of 1 to 5. They are heavily concentrated in Uttar Pradesh and Bihar, with extremely weak access to all types of services and are home to about 230 million people. In other words, one-third of the countrys population are below the empowerment line as defined by the study live in these districts.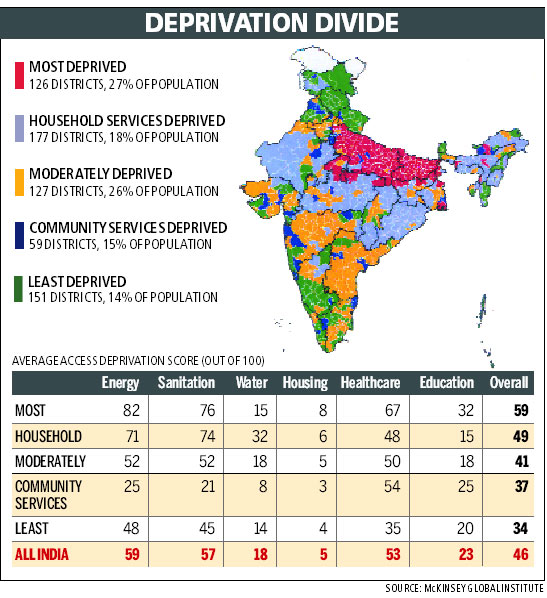 Few of these districts have any industry or even agro-processing units to provide avenues for employment other than in agriculture. The UP governments Industrial Handbook, 2012, shows in 22 years the annual average industrial investment proposals received were only Rs 12,458 crore for the state.
In the McKinsey report, the deprivation scores for access to energy, sanitation and or health care are way below the national average. Among the UP districts in this sweep are Rae Bareli (covering a large segment of the constituency of Sonia Gandhi), Sultanpur (largely Amethi represented by Rahul Gandhi) and Mainpuri (Mulayam Singh Yadav).
In Bihar, it is worse. There is no district other than capital Patna that escapes the label of most deprived. So Saran (largely Lalu Prasad Yadavs constituency) or West Champaran (from where Prakash Jha of JD-U will fight) are in the same league. The indicators ( as the chart shows) mean development issues will obviously be the key theme in these districts.
The average monthly per capita expenditure in these districts is Rs 1,083, far below the national average of Rs 1,627. Just 14 per cent of the population of these districts lives in urban settlements that might offer greater job opportunities; 60 per cent rely for their livelihood on agriculture, the report notes.
The Bihar government website shows total industrial investment in the state since 2006 has been less than Rs 5,000 crore. The ticket size of individual investment has rarely exceeded Rs 5 crore, which is why of the 1,477 proposals, less than 100 have shown projected employment of a hundred workers each.