Mamit district, known as the rice-bowl of Mizoram, has its eyes set on oil palm to provide a new crop to its farmers and at the same time contribute to the states agro-based economy.
While the state agriculture department introduced oil palm cultivation in 2001, Mamit rather woke up a little late. But since 2007, nearly 4,500 farmers in 45 villages in the district have taken up oil palm cultivation.
We introduced nearly one lakh oil palm seedlings in 2007, but about 45 per cent of them were lost in a massive rodent attack in Mautam Mizorams typical famine that returns every 48 years last few years, said Zahrila Hrahsel, the district agriculture officer here.
The Mizoram government has, in the meantime, signed MoUs with three leading oil palm companies of the country, and the partner companies have been allotted different districts for oil palm development.
Accordingly, Mamit, which has been identified as the lead district for oil palm cultivation in Mizoram, has been assigned to Godrej Oil Palm Ltd, which has already set up a nursery at Bawngva. Godrej also has been allotted the adjoining district of Kolasib, while another leading company, Ruchi Soya Industries Limited, has been allotted Lunglei district. Some areas in Aizawl, Serchhip and Saiha districts on the other hand have been given to Food, Fats & Fertilizer Limited.
A centrally sponsored scheme on 75:25 sharing between central and the state governments, the oil palm development programme intends to cover approximately 62,000 hectares in Mizoram. Mamit has an area of 3026 sq kms, and a population of over 63,000 people.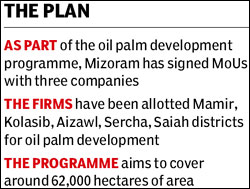 We have sent several batches of our farmers on educational tours to Kerala and Goa to see how farmers in those states are cultivating oil palm and already enhancing their income, Hrahsel informed.
Altogether 1,000 farmers have already taken up these tours. This apart, the state agriculture department has also organised training programmes for farmers in collaboration with Godrej Oil Palm Ltd and the other two companies, he added.
Farmers who have taken to oil palm cultivation have also formed growers societies jointly with the promoting company and the state government.
The advantage Mizoram has over Kerala, Andhra Pradesh, Goa and other states growing oil palm is that the soil here has high moisture content. Farmers in the southern states are required to provide irrigation support for the oil palms to thrive. But in Mizoram there is no need for irrigation, the district agriculture officer said.
As for the marketing of the oil palm seeds, Godrej and the other two companies have already agreed to buy back all the produce. The present market value of oil palm seeds is Rs 350 per kg, which is likely to go up by the time the plantations in Mizoram are old enough to produce good amount of fruits.
Oil palm harvest is generally conducted three to four times a year with each tree yielding 30-40 kgs of fruits per harvest, Hrahsel said.
What is more interesting is that Godrej has also agreed to buy the old trees after the yield begins to decrease. Oil palm trunks are used for manufacture of particle boards used in furniture.
While the oil palm cultivation programme in Mizoram was so long on a 75:25 sharing between the Centre and the state, the latter has also included oil palm cultivation in its recent New Land Use Policy (NLUP). Under the policy, every farmer who is involved in oil palm cultivation will get a financial aid up to Rs 1.20 lakh spread over a period of two years.