Many of the IIT faculty that HRD minister Kapil Sibal used as an example to debunk environment minister Jairam Rameshs comments that the staff and research at the Indian Institutes of Technologies (IITs) are not world class partially agree with Ramesh that there is room for improvement.
Countering Rameshs lament on the premier institutes, Sibal had pointed out that 25% of the IIT faculty are alumni of the institutes, and therefore, must be world class.
FE spoke with some IIT faculty members to gauge their mood. The number of students at IITs are increasing and the classrooms are small. The increased student intake doesnt lead to constructive interaction with the students at a personal level. If the batch is split into two, then more faculty is required. Moreover, there are not high-class amenities, said Mandar Inamdar, who passed out from IIT Bombay and has been teaching there for four years.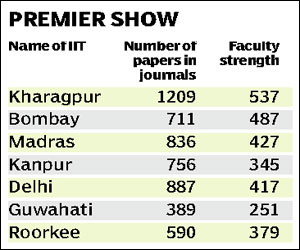 At IIT Bombay, 25% of the faculty are B Techs from the same institute with another 60-70% who are M Techs or PhDs from the premier institutes.
Referring to Rameshs comments, Inamdar said, Though it is unfair to make such blanket statements, but it is true that we are not comparable to Massachusetts Institute of Technology and that is because these institutes have been around for a longer time.
Agreeing with Ramesh, a professor from IIT Kanpur says, Facilities can be improved in the IIT system especially for experimental work and their autonomy. There needs to be lesser interference (from the government) on decisions that can make us world class. Where will you get world class faculty if you keep adding more IITs
This assumes significance as less than 1% of IIT undergraduates pursue Masters or PhD courses within the IIT system and the IIT system produces less than 1.5% of the total engineering graduates in the country but accounts for over 70 % of those pursuing doctoral programmes in engineering and technology.
Same is the case with the newly established IIT Ropar. 25% of our faculty have done their B Tech from some IIT or the other, agrees MK Surappa, director of IIT Ropar.
At IIT Delhi, more than 30% of the faculty in the engineering departments have done their B Tech from the premier schools and almost 70% have received some degree or the other from it.
It is pointless to contextualise, especially regarding research, because it all depends on the amount of facilities available and the number of people in each department. However, we should not compare because publications cant be churned out overnight, says Harish Karnick of IIT Kanpur who has degrees from his alma mater as wells as IIT Bombay.
Of the 340-strong faculty at IIT Kanpur, around 60% are from the IITs themselves, and in the computer science department the number is as high as 85%.
Though such statements do affect the morale of those who take serious value to the IITs, as Inamdar says, We must look at global standards and match up to it by improving ourselves.