After dismissing 87 workers from its Sriperumbudur plant in Tamil Nadu on disciplinary grounds last month, Hyundai Motor India is going to review 35 cases for a possible recall in the next two weeks.
Following the three-day long strike, the company had set up a committee with representation from workers, Hyundai officials and government representatives to take stock of the situation and the panel will take a call finally.
The companys director (sales & marketing) Arvind Saxena told FE that the Korean car major can promise good compensation and work environment but there are certain things that were beyond the control of the company. There are things that we cannot handle...and the strike seems to have other reasons...I cannot meet every demand, he said.
Saxena said since setting shop in India, the company had progressed very well with its employees and such incidents were initiated by a small group of workers. About 200 out of the 10,000 workers at the companys Tamil Nadu facilitybrought production to a halt on June 6 for a period of three days, demanding the reinstatement of the 67 workers fired in December 2009.
Due to the strike, Hyundai Motors lost out on the production of more than 2,000 units, costing an estimated $13.9 million to the company. The company was forced to accept demands of the striking workers and reinstated 67 of them who were dismissed earlier.
Hyundai Motors has invested over Rs 8,000 crore in the Tamil Nadu plant, making it the biggest private sector investment in the country. An auto analyst said that Hyundai was not left with any other option but to accept the demands of the workers.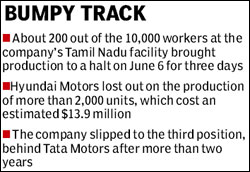 In a market that is characterised by cut-throat competition car makers cannot afford to turn a blind eye to loss in production. Every day lost hurts the company, he said. In fact, the over 2,000 unit-loss in production by Hyundai due to the labour stir saw the company slip to the third position, behind Tata Motors after more than two years.
The Hyundai strike came close on the heels of a similar labour dispute seen in the plant of the battery maker Exide in Bawal, Haryana in March this year. The strike took a toll on the worlds largest two-wheeler maker Hero Hondas March sales numbers, which dipped by more than 10%.