In a bid to make the project implementation hassle free, hydro power developers both in the public and private sectors are offering more than the rehabilitation package based on the National Rehabilitation and Resettlement Policy, 2007. The benefits include insurance cover, micro health insurance scheme, hefty assistance especially in the wake of major mishap to the project affected families.
The country's largest power generator NTPC, which is currently developing hydro projects of about 1,900 mw, for the first time has provided insurance cover to 164 households including cattlesheds for 5 years at its upcoming project Tapovan Vishnugad. Total value of insurance for Shelong village comes to Rs 8.26 crore upto October 13, 2014. The insurance cover has been provided considering the probable cause of damages to houses and structures under the Standard Free & Special Perils Policy which includes landslide, cloud burst land subsidence and earthquake risk.
NTPC chairman & managing director RS Sharma told FE, "These households are insured against all risks during the course of project implementation as a goodwill gesture. United India Insurance came forward to provide the insurance cover. Initially, this policy is for five years with stipulation that an appreciation of cost will be at 5% per year on insured sum of structures." Sharma said NTPC and United India Insurance jointly completed the measurement of houses and subsequently rate has been derived as per the local prevailing construction cost. For pukka house the rate is Rs 600 per sq ft, Rs 350 per sq ft for kucha and Rs 250 per sq ft for cowsheds.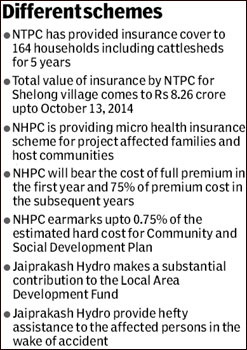 On the other hand, state-run NHPC, which is implementing 11 hydro projects with 4,622 mw capacity in the 11th Plan by investing Rs 21,600 crore, provides micro health insurance scheme for both project affected families and host communities. NHPC chairman and managing director SK Garg informed that according to the mirco health insurance scheme, NHPC will bear the cost of full premium in the first year and 75% of premium cost in the subsequent years till all relief and rehabilitation (R&R) works are fully implemented. Garg clarified that NHPC does not provide insurance on the line of NTPC. However, he made it clear that its micro health insurance scheme is in addition to its R&R package. NHPC earmarks upto 0.75% of the estimated hard cost for Community & Social Development Plan.
Moreover, Jaiprakash Hydro, which is operating 700 mw of hydro projects and currently in the midst of adding 1,000 mw by 2011, makes a substantial contribution to the Local Area Development Fund. According to the company sources, it does not offer any insurance cover to the project affected families but provide hefty assistance to the affected persons in the wake of accident.