FMCG major Hindustan Unilever on Tuesday turned in a disappointing set of numbers for the December 2009 quarter, with its net sales growing by just 4.6% year on year to Rs 4,504.26 crore and net profit (from ordinary activities) by a meagre 4% to Rs 649.11 crore. The anaemic growth in the top line left the firms operating profit margin lower at under 16% despite a sharp fall in raw material costs which came off by about 500 basis points.
The good news is that volumes in the December 2009 quarter were up 5% year on year, a much healthier number than around 1% reported in September 2009. HUL chief financial officer R Sridhar observed that 75% of the companys portfolio had seen robust growth. The entire growth in the FMCG portfolio has been driven by volumes, Sridhar said.
However, according to an analyst, The increase in volumes is encouraging but despite this, the rise in the top line has been rather muted.
Compelled to push its brands in a competitive marketplace in a big way to regain market share, HUL upped spends on advertising and promotions during the December 2009 quarter, by 530 basis points. That probably helped the key personal products portfolio grow at a strong 16% year on year, a better show compared with the 13.4% growth reported in the September 2009 quarter. The performance of its personal products segment was impressive, although analysts pointed out that the colder-than-usual winter this year in the northern part of the country helped sales of skincare products. A HUL statement said the haircare and skincare products drove sales of the high-margin personal products segments.
However, revenue from the HULs biggest business soaps and detergentscame off slightly to Rs 2,072 crore. While the portfolio had seen a de-growth in volumes in the September 2009 quarter, the HUL management observed that this time it managed to clock better volumes.
Actions to restore competitiveness in soap and mass laundry yielded positive results with the soaps and detergents segment returning to volume growth, the company statement noted.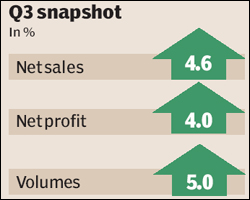 HUL has lost market share across several of its key categories over the past 12-18 months. However, according to the management, the company gained market share in categories such as laundry powders, haircare, tea and personal wash during the December 2009 quarter, over the September 2009 quarter. However, it conceded that there were some challenges with regard to the oralcare and detergent soaps segment.
HULs foods business fared just about satisfactory during the quarter with revenues at Rs 769 crore, showing a single-digit increase.