Even as the human resource development ministry failed to utilise a substantial part of the funds allocated this fiscal, it has sought a two-fold jump in the budgetary outlay for 2011-12. The total outlay sought for next fiscal is Rs 82,000 crore, against the Rs 42,000 crore allocated in 2010-11.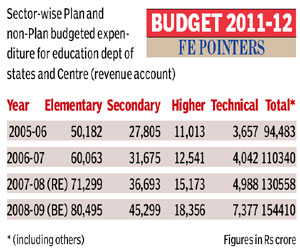 Almost three-fourths or Rs 60,000 crore of this allocation has been demanded by the department of school education and literacy while the rest Rs 22,000 crore is being sought by the department of higher education. Last year, the former had appropriated Rs 31,036 crore while higher education was given Rs 11,000 crore.
We are trying to consolidate all forms of education including higher, technical and distance learning. Moreover, there is also the National Mission in Education through ICT that will be launched soon. Hence, we have asked for Rs 21-22,000 crore this year for higher education, said a ministry official.
The mission was launched in 2009 and is expected to cost nearly Rs 5,000 crore in the next three years. It will provide Internet connectivity to over 20,000 degree colleges and over 10,000 departments in universities.
Interestingly, the government granted Rs 26,800 crore for school education in 2009-10, of which it used Rs 22,729 crore. The department of higher education utilised Rs 7,952 crore alloted to it, against a grant of Rs 9,600 crore.
We will launch new schemes next year, especially the one on interest subsidy for educational loans and most institutions will come into their productive phase only in 2011. So, we will need more resources, the official added. The ministry has said that under the scheme, if the loan size is Rs 150 crore or more, it will be directly funded to the institution and if it is less, it will be refinanced through the banking system. The demand for student loans is likely to go up to Rs 1.2 lakh crore by 2017 and Rs 1.69 lakh crore by 2020.
In school education, besides the implementation of the Right to Education Act, the ministry is also looking to provide facilities for estimated additional enrollment of 32.2 lakh students under the Rashtriya Madhyamik Shiksha Abhiyan (RMSA) by 2011-12. RMSA was launched in 2009 and aims to universalise secondary education by 2017. Additionally, funds to the tune of Rs 2.31 lakh crore will be needed in the next five years for implementing the Right to Education Act, which makes education a fundamental right of every child.
The official added that the department of school education has already gone for a big hike in the revised estimates of last year.
The budget expenditure on education as proportion of GDP has increased from 1.52% in 1961-62 to about 3.78 % in 2008-09. Though the target is to take it up to 6% in the next few years, mobilising funds will be difficult due to rising food, ferlitiliser and oil subsidies.