Allahabad High Court has ordered real estate major Supertech to demolish two towers in Noida for violating building laws.
The Allahabad High Courts recent order asking real estate major Supertech to demolish two towers in Noida for violating building laws has left the residents in the lurch even as the developer grapples to refund their money with 14% interest.
Supertech may be the first developer in recent times to get the high courts rap, but there are several others in Noida and Ghaziabad against whom cases have been filed in the Allahabad HC by resident welfare associations (RWAs) for alleged violation of laws and agreements. At least five cases, against three developers, have been filed in the HC and the common thread running through these complaints is the modification of the original, approved plan without the RWAs consent (see table).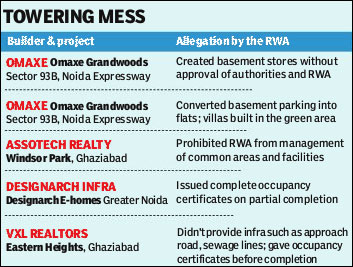 Earlier, in Gurgaon, real estate developer DLF was penalised by the Competition Commission of India for violation of a similar nature. The matter is currently before the appellate tribunal.
According to the Uttar Pradesh Apartments Act, 2010, developers cannot make alterations in the original, approved plan without the consent of regulatory authorities such as the project engineer, architect and the RWAs.
In case of Omaxe, against which two cases are pending in the Allahabad HC, the alleged violation is creation of stores in the basement area, building apartments in the area reserved for parking, and building villas in the common green area.
Similarly, in the case against Assotech Realtys Windsor Park project, the allegation is that the developer has prohibited the RWA from the management of common areas and facilities.
Omaxe didnt respond to email queries from FE. Assotech Realty said there are multiple RWAs in the Windsor Park Complex. The company wants to hand over the complex to the genuine RWA, but is restrained from doing so in the light of multiplicity of RWAs and pending litigation. The Ghaziabad Development Authority (GDA) has instructed all the RWAs to maintain status quo in the complex.