If it was malls earlier, its special economic zones (SEZs), industrial pockets, even hospitals that mid-market hotels are now piggybacking for co-location in order to cut costs and increase occupancy. And, if that does not work out, hoteliers have come up with the shared-service model, where the same hotel chain has two brands of different price points in the same complex. Common back office operations also help cut costs.
Take home-grown hospitality chain Lemon Tree, which is developing properties based on this format with its two brands Red Fox and Lemon Tree at Delhi airport and in Hyderabad. Accors property in Bangalore will be also on a similar model.
ITC has innovated further with the hospital-hotel format. ITC Fortune, a mid-market brand of ITCs hotel division, launched Fortune Park Lakecity, a 58-room hotel in March this year, housed in the Jupiter Lifeline Hospital building in Thane.
Ginger is another interesting example. The Taj Group budget hotel brand is developing a hotel in Chennai on the top floor of a research park promoted by IIT Madras.
These new formats help hotels save costs and expand consumer base simultaneously. Land in an SEZ or industrial pocket is 20% cheaper. Also, these hotels have captive guests, which saves us sales and marketing costs, says Ajay Bakaya, executive director, Sarovar Hotels & Resorts. The hotel company has two hotels―Sarovar Hometel and Premiere at Bangalores Whitefield SEZ. Ginger too has presence in Whitefield, besides other designated industry zones like TechnoPark in Thiruvananthapuram, MIDC in Nashik and SIDCUL in Pantnagar. While a hotel located in an SEZ or an industrial pocket targets business travelers, ITCs property in Thane woos medical tourists.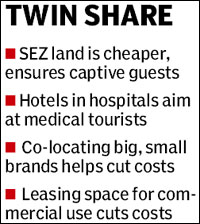 If locating a hotel in a SEZ or an industrial pocket helps save real estate costs, the shared service model lowers operating costs. Consumers will perceive two brands next to each other as two different hotels. But the hotel company can have common maintenance, operation and security for the two hotels, resulting in savings.
However, customer service operations have to be separate, says Rahul Pandit, VP (operations), Lemon Tree. In Hyderabad, the company will have around 400 rooms, of which three-fourth will be for the Lemon Tree brand, which commands a higher room rate and the balance for the economy Red Fox. The hotel is slated to open by this year-end. At the Delhi airport, of the total 500 rooms, around 300 will be for Lemon Tree and the rest Red Fox.
Similarly, French hotel company Accor, with its joint venture partner InterGlobe in India, is developing economy brand Ibis and luxury brand Novotel in Bangalore in the same complex. We have tried this format in other countries, but in India its a first. It will help save administration costs, says Daniel Tannenbaum, regional director, sales and marketing, India, Accor Hospitality.
Mixed-use development with commercial space and hotel in the same complex is the tried-and-tested format for hoteliers. Ginger, Sarovar Hotels, Clarks Inn and many other branded players have hotels located on upper floors of a mall where footfalls are lower. Clearly, this has a strong economic rationale with the builder getting high returns from commercial and retail spaces on the lower floors of the building and hotels gaining from a lower lease rental on the upper floors, says Prabhat Pani, CEO, Roots Corporation, a wholly-owned subsidiary of Indian Hotels, which operates Ginger hotels.
Interestingly, its not only mall developers who are leasing out space to hotel companies; in some cases, things are working the other way round too, with hotel companies investing in real estate. For instance, Lemon Tree has leased out space for commercial space at the lower floors and built hotels on the top floors in Jaipur and Pune, which has bought down project costs for the hotel company.
Suresh Kumar, ITC Fortune president, calls the hotel-hospital format futuristic and is happy with the initial response. Land is becoming very expensive; by mixed-use development or having such formats one can defray costs. Who knows in future, you might have hotels attached to a college, as education-tourism picks up pace, he says.
After all, theres no limit to innovation.