The ratio of volatile capital flows?defined to include cumulative portfolio inflows and short-term debt?to the country?s forex reserves increased to 58.1% in March 2010 compared to last year?s 47.9%.
According to the Reserve Bank of India (RBI), the ratio of short-term debt to the foreign exchange reserves declined from 146.5% in March 1991 to 12.5% in March 2005, but increased slightly to 12.9% in 2006.
However, with expansion in the coverage of short-term debt, the ratio increased to 14.8% in March 2008, to 17.2% in March 2009 and 18.8% in March 2010.
The country?s foreign currency assets are invested in multi-currency, multi-asset portfolios as per the existing norms which are similar to the best international practices followed in this regard. At end of March 2010, out of the total foreign currency assets of $ 254.7 billion, $ 132.1 billion was invested in securities, $ 117.5 billion was deposited with other central banks, BIS and the International Monetary Funds (IMF) and $ 5.1 billion was placed with the External Asset Managers (EAMs).
A small portion of the reserves has been assigned to the EAMs with the main objective of gaining access to and deriving benefits from their expertise and market research, said RBI.
The rate of earnings on foreign currency assets and gold, after accounting for depreciation, decreased from 4.82% in July 2007-June 2008 to 4.16% in July 2008-June 2009.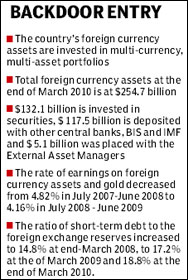 The RBI held 557.75 tonne of gold forming about 6.0%of the total foreign exchange reserves in value terms as at the end of March 2010.
Of these, 265.49 tonne are held abroad (65.49 tonne since 1991 and further 200 tonne since November 2009) in deposits / safe custody with the Bank of England and the Bank for International Settlements.
In November 2009, the RBI concluded the purchase of 200 metric tonne of gold from the IMF, under the IMF?s limited gold sales programme. The purchase was an official sector transaction and was executed over a two week period during October 19-30, 2009 at market-based prices. As a result of this purchase, the RBI?s gold holdings have increased from 357.75 tonne to 557.75 tonne.
Following the commitment made by India as part of the G-20 framework, the RBI has agreed to purchase SDR denominated notes from IMF up to $10 billion. As on March 31, 2010, $317.9 million was invested in notes of the IMF.
International Monetary Fund designated India as a creditor under its Financial Transaction Plan (FTP) in February 2003. During April 2009 to March 2010, SDR 130 million was made available to Romania, SDR 50 million to Sri Lanka and SDR 117.93 million to Belarus.
The total purchase transactions amounted to SDR 1194.16 million as at the end March 2010. India was included in repurchase transactions of the FTP since November 2005. There were no repurchase transactions during the half year ended March 2010.
The traditional trade-based indicator of reserve adequacy- import cover of reserves- which fell to a low of three weeks of imports at end-December 1990 reached a peak of 16.9 months of imports at the end of March 2004. At the end of March 2010, the import cover stands at 11.2 months.