The Hero Group and Honda Motor of Japan have reached an understanding on how their separation would be scripted. As per the plan, Honda would divest its 26% stake in the joint venture firm Hero Honda and dissociate itself from brand Hero. Honda would, however, continue to provide technology support to the Indian firm even after 2014, when their extant pact comes up for review.
Honda Motors would exit the JV by divesting its stake either in favour of Hero Group or private equity players, sources in the know said.
This would mean that once the divorce is formalised, the Hero Group could still source technology from Honda but its motorcycles like Splendour and Passion among others would no longer sport the Honda brand. The Hero Group would continue to pay a royalty to Honda for the technology tie-up.
According to an industry source, The understanding reached between the two companies is that the technological agreement, which is the bedrock of their relations, would continue beyond 2014, however Honda would dissociate itself from brand Hero.
Honda wants to concentrate on its own brand building. The extension of the technology agreement is prompted by the guarantee of healthy royalty payout by the Hero Group, the source added.
When contacted, a Hero Group spokesperson declined to comment.
FE was the first to report in its edition dated August 3 that the two firms had run into differences ahead of the renewal of the technology agreement, which comes up in 2014.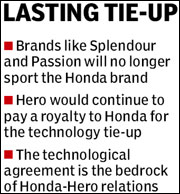 Honda Motor had reportedly laid a condition that for renewing the contract, Hero Honda would have to step up sourcing from Honda Motor India, a wholly owned subsidiary of the Japanese automaker. This was not acceptable to the Munjals, the promoters of the Hero Group. However, the latter were agreeable to increased engine sharing and platform sharing (as part of other synergies) with Honda Motorcycles and Scooters India (HMSI), a wholly-owned subsidiary of Honda.
It would be very challenging for the Hero Group to establish a strong brand without Honda. In a competitive market it could take time to restore consumer confidence in the brand, an auto analyst said.
The survival of the Hero Honda JV has been a subject of speculation since 2001 when Honda set up its 100% subsidiary, HMSI in India to produce scooters. Later in 2004 the company entered the motorcycle segment. Subsequently HMSI offered many products like the Honda Unicorn bike which competed against Hero Honda models. The technology agreement, which is reviewed every 10 years, however got renewed in 2004.
Though still largely a small player in the market, HMSI has been steadily growing year-on-year over the last nine years. Hero Honda on its part has 59% of the motorcycle market. In August the company sold more than 4 lakh units.