Himachal Pradeshs first IT park-cum-townshipwhich was proposed to come up near Waknaghat in Solan districthas gone into sleeping mode for now.
With the state government yet to take any decision on the project, the fate of the IT park seems uncertain. Sources in the Himachal Pradesh IT department told FE that the model of development of the project is being reviewed and it may be changed to auction mode. Since the bidding process could not evoke good response, it has been proposed by the consultantsRamky Infrastructureto change the model of IT parks development. It has been proposed to change the model from lease to auction but the state government has to take a final call on the same, a senior IT department official said.
The state IT department had earlier invited bids for the IT park to be spread over 64.7 acre in September 2009, but the bidding process was put on hold due to poor response from the developers. Moreover, it failed to attract any bigwigs of the industry even as the last date for inviting the bids was extended from October 26, 2009 to January 4, this year. At that time the real estate developers had asked for a few changes in the Request for Proposal (RFP) related to the land acquisition procedures of the government.
The companies had sought relaxations in the development norms, targets kept by the department for the development of the project and various land laws of the state. Keeping these things in mind it has been proposed that auction mode should be followed to allot the land permanently to the developer instead of leasing it out, the official added.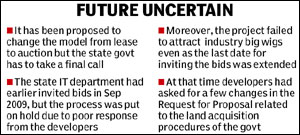 The changes suggested by the consultants was to make the project attractive for investors including the parking model, land laws etc. The state government had proposed to set up five IT parks in the state way back in 2006, under the PPP mode, but then it was decided to reduce the number to one.