Sharp spike in feed prices for the past few months has left lakhs of cattle farmers in Tamil Nadu high and dry.
According to the Tamil Nadu Milk Producers Welfare Association, unless the procurement price of both cow and buffalo milk is increased by Rs 5 per litre by the state-run procurer Tamilnadu Co-operative Milk Producers' Federation, better known as Aavin, cattle farmers would have to look elsewhere for greener pastures.
The procurement price of cow milk with 4.3% fat and 8.2% solid not fat (SNF) is currently at Rs 15.54 per litre while it is Rs 23 per litre for buffalo milk with 7% fat and 8.8% SNF content. The last revision in prices was made in September 2009. Though there has been only a Rs 5.50 per litre increase in procurement prices in the last five years, the retail price increase to the end customer has risen to nearly Rs 11 per litre, association members said.
If the procurement price is at Rs 15.54 per litre, the welfare association gives away Rs 15.04 per litre to the farmer and retains 0.50 paise to meet overheads.
According to MG Rajendran, general secretary of the welfare association, subsequent to the increase in procurement prices in September last year, there has been a gradual and steady increase in prices of cattle feed, which nearly wipes out the margins of the farmers and, in some cases, puts them at heavy losses. He says the feedstock supplied by Aavin to the farmers for maintaining hybrid cattles like Gersey is not sufficient forcing them to depend on other sources.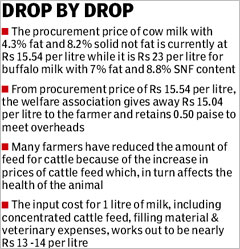 For instance, to get 1 litre of milk, a milching cow has to be fed 400 gm of concentrated cattle feed, besides 2 kg of paddy and sorgham straw a day for maintenance and nearly 5 kg to 10 kg a day of filling material including green grass as a routine. But since January 2010, the prices of concentrated cattle feed have gone up from Rs 10 per kg to Rs 13 per kg and even the prices of paddy and sorghum straw have nearly doubled. From Rs 100 per bundle, paddy straw prices have gone up to Rs 200 per bundle; while the prices of sorghum straw has moved up to Rs 250 per bundle from Rs 150 per bundle.
"Because of the increase in prices of cattle feed many farmers have reduced the amount of feed that is fed to the cattle which in turn affects the health of the animal and impacts the quality and quantity of milk produced. The procurement price will vary depending on the quality of milk. It is a vicious circle", he said.
Normally, the lactation period of a cattle is about 250 days and during that period it produces 2,000 litres of milk. Since the quantity of milk produced varies during the period, the average milk produced works out to 6 litres per day, he said.
On an average, the input cost which includes concentrated cattle feed, filling material and veterinary expenses during lactation, incurred by a farmer to get one litre of milk works out to be nearly Rs 13 per litre to Rs 14 per litre. If the labour charges are also included, the cost is unmanageable and unsustainable. In fact, some farmers have started looking out for other avenues of business.
Besides, instead of selling to The Tamilnadu Co-operative Milk Producers' Federation, some are willing to sell their produce to the private players who pay anywhere between Re 1 to Rs 2 more than the procurement price fixed by the federation.
The Tamilnadu Co-operative Milk Producers' Federation is an apex body of 17 district Cooperative Milk Producers' Unions. It has dairy plants which collect milk from district unions, process and pack in packets and send for sale to the consumers.
Aavin procures nearly 22 lakh litres of milk per day and of that 10.5 lakh litres is sold in Chennai alone.