The pecking order of the top four domestic information technology (IT) companies is well established by sales and profitability. However, if one ranks them on the basis of their attrition numbers the rate at which they lose their employees the order changes upside down.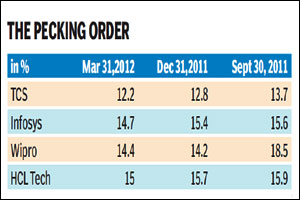 Thus, HCL Technologies the fourth largest IT firm by sales and profitability takes the top spot with highest attrition at 15% followed by Infosys Technologies at 14.7%. Wipro stands third with a quarterly attrition of 14.4% during the January-March quarter and the country's largest IT firm Tata Consultancy Services (TCS) has seen one of the lowest attrition at 12.2%.
The ranking with respect to attrition, according to analysts, is the result of the type of work especially done on-site, spread of the company and policies related to hiring, bench and utilisation which the firms follow.
TCS has seen one of the lowest attrition in the industry thanks to its generous wage hikes and improved utilsation over the quarters.
TCS has a high employee utilisation rate compared with its peers and has been doling out generous wage hikes. Also, the the kind of projects that TCS gets are more satisfactory due to its geographical spread, explained Ankita Somani, analyst, IT- telecom practice at Angel Broking.
Our efforts to increase retention by engaging with our employees and offering them a progressive career path are paying dividends with attrition rates falling further to 12.2%, said Ajoy Mukherjee, the executive vice-president, head, global human resources at TCS.
HCL Tech, on other hand, has been following an employee rationalisation programme for its business process outsourcing (BPO) business which is undergoing a transformation. Incidentally, HCL Tech follows a Employee First, Customer Second policy.
Aditya Narayan Mishra, the president, staffing at Randstad India, too says employee engagement should be in line with the company strategy so that it gives visibility on the internal business environment.
The recruitment process, allocation of people on different projects and the communication related to these is what engages employees, he said.
Another important issue related to attrition is wage hikes. While HCL Tech will announce its wage plans at the time of its annual results in June, TCS has announced an 8% rise. Interestingly, Infosys does not plan any pay rises in the near term and this assumes significance as it can push up employee-related issues such as attrition for the firm.
For instance, attrition at Infosys increased when the firm implemented its iRace programme under which the employees were required to wait longer for their promotions so that only the professionals with proven managerial skills could lead project teams.
As per outsourcing consultant Sid Pai, MD of advisory firm TPI: A combination of type of projects, bench, utilisation and type of hiring- fresher or lateral decides the attrition rate of the company. However, the attrition rates of the top four are more or less in line with industry numbers.
Attrition rates in the top four are less than the industry average of 16%.
As for the type of hiring, while Wipro and HCL Tech have a greater focus on lateral and just in time hiring, TCS does campus hiring in a big way. The churn among laterals is higher compared with freshers, say experts. "We have successfully undertaken the largest ever hiring effort in our history by adding and integrating 70,400 professionals during the year. With business demand continuing to be robust, we have made 43,600 offers on campuses for trainees to join us from the second quarter of this fiscal year, Mukherjee added.
Attrition also depends on the time of the year as the first two quarters experience higher churn as wage hikes are made in these two quarters.
"Attrition levels are higher in the first half of the year because this is when appraisals and wage hikes take place. Also, many people opt for higher studies during this time, noted Sangeeta Gupta, vice president, Nasscom.