The mirror image of this picture comes from the Bimaru states. (PTI)
The Bimaru states of India are sharply slipping up on urbanisation in the last decade showing that the benefits of high growth in these states are possibly remaining concentrated in small geographical pockets. This is a disturbing picture and quite different from what has happened in most Southern or Western Indian states.
Between 2001 and 2011, in the large densely populated states like Uttar Pradesh, Bihar and Madhya Pradesh, the number of districts where towns did not expand to cover more population or remained unchanged is more than the number where they did expand.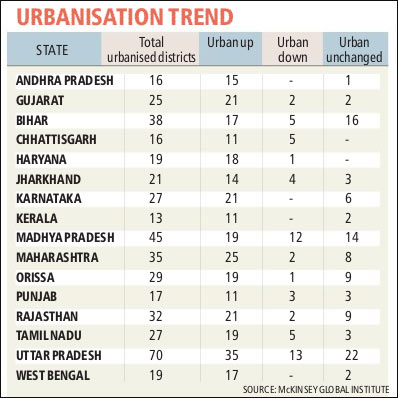 In Bihar, nearly half of the total districts reported exactly the same levels of urbanisation in 2011 as compared to the levels way back in 2001. In Madhya Pradesh and Uttar Pradesh, a third of the districts across both states have seen the levels of urbanisation unchanged during the period.
Higher urbanisation is considered a useful shorthand to measure decline in poverty level. As a rule of thumb, a district is considered to have moved out of the BPL threshold once the urbanisation levels surge higher than 30 per cent.
In Bihar, except capital Patna no district crosses this threshold. Of the 86 districts of Uttar Pradesh only 15 are above the water mark. Compare this with Karnataka for instance, where 10 out of the 27 districts are urbanised. Of the 25 districts of Gujarat, 14 cross the urban-BPL threshold.
The figures from the McKinsey Global Institute also show that in North Indias Bimaru belt, even where the district-wise urbanisation has gone up, the increase is marginal during the 10 year period. This holds true for all the states stretching from Rajasthan to West Bengal and includes Orissa, Jharkhand and Chhattisgarh.
In all of them, the rate of growth is between 1 and 5 per cent. In absolute numbers (actual increase in urban population measured in million people), in some of the districts there has been a noticeable fall in the urbanisation level during Indias best ever growth phase.
Commenting on the figures Aromer Revi, director of Indian Institute of Human Settlements which tracks urban issues, said this is not surprising. The migration of substantial number of people from these states is hollowing out of the areas of working class people, which is showing up.
Naturally, the districts which have seen the sharpest increase in the rate of urbanisation are all from either Southern or Western India.
These include several in Andhra Pradesh such as Warangal (urbanisation rate up from 19 per cent to 28 per cent), Krishna (up from 32 per cent to 41 per cent) and Gandhinagar in Gujarat (from 35 per cent to 43 per cent). Kerala leads this category with districts such as Kollam (18 per cent to 45 per cent), Alappuzha (29 per cent to 54 per cent), Thrissur (28 per cent to 67 per cent), Malappuram (10 per cent to 44 per cent) and Kozhikode (38 per cent to 67 per cent).
The mirror image of this picture comes from the Bimaru states. In several of them, urbanisation levels are well under 10 per cent even in 2011. The worst are Bihars Kaimur (3 per cent to 4 per cent), Gopalganj (steady at 6 per cent), Sheohar (steady at 4 per cent), Madhubani (3 per cent to 4 per cent) and Madhepura (steady at 4), Dindori in Madhya Pradesh (steady at 5 per cent), Boudh in Orissa (5 per cent), Barmer in Rajasthan, (7 per cent) and Latehar in Jharkhand (6 per cent to 7 per cent).
As per the Census of India 2011, the definition of urban area is all places with a municipality, corporation, cantonment board or notified town area committee or which has a minimum population size of 5,000. Of them at least 75 per cent of the males in the working population group should be engaged in non-agricultural pursuits.