Despite reporting a 11% year-on-year increase in volumes, FMCG major Hindustan Unilever managed to increase its top line merely by 7.1% to Rs 4,793.9 crore in the three months to June 2010. This was due to competition in the marketplace that constrained it from increasing prices.
This, analysts point out, is the sixth consecutive quarter of single digit top line growth. The muted growth in sales wasnt enough to leave it much of a surplus after taking care of costs. Net profit after tax from ordinary activities stayed flat at Rs 533.21 crore.
Spends on advertising shot up by 300 basis points in the June quarter pushing down the companys operating profit margin by 180 basis points to 14.2%.
HUL chief financial officer R Sridhar said, We increased ad spends to build our brands and new categories and consequently our operating margins were lower. Sridhar observed that HUL had taken price cuts in the soaps and detergents category during the June quarter to help boost volumes.
The move appears to have paid off because the key soaps and detergents business, which brings in the bulk of HULs revenues, rose by 2.3 % at Rs 2,264.5 crore in the June quarter. That was a better performance compared to the March quarter when the segment had de-grown. In the June quarter, the highly profitable personal products segment incresed by 11.5% to Rs 1,365.5 crore, more or less in keeping with analysts expectations, although way below the near 19% growth reported by the segment in the three months to March 2010.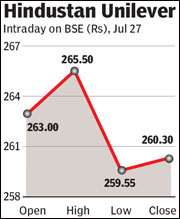 Anand Shah, who tracks the FMCG space at Angel Broking, said the numbers were disappointing and below expectations on the profitability front. While the top-line growth was marginally above estimates, driven by the 11% volume growth, the recurring earnings declined 4% yoy led by significant margin contraction, he said. Harish Manwani, chariman, HUL said, Despite an intensely competitive environment, we have sustained double-digit volume growth. We continue to invest fully to defend our strong leadership positions and build competitive growth momentum through bigger and better innovations. The company's water business also got a boost with the successful launch of its Pure-it Compact water purifier at a price tag of Rs 1,000.