Hero Honda Motors on Thursday reported a 1.6% dip in its net profit at Rs 491.69 crore in the quarter ended June 30, 2010. This was due to rise in input cost. In the corresponding period last year, the company had recorded a net profit of Rs 500.11 crore.
However, on the back of high rural penetration, the company registered a total turnover (net sales and other operating income) of Rs 4,296.61 crore during April-June against Rs 3,829.16 crore in the same period last year, an increase of 12.21%. In five consecutive quarters, the company had sold more than 1 million two-wheelers, it stated.
Hero Honda Motors MD & CEO Pawan Munjal said apart from rising raw material costs, new emission norms have also put pressure on the company's bottom lines. It was a challenging quarter due to the rise in commodity prices. Switching over to the new emission norms also added to the expenditure, even as we witnessed substantial increase in input costs in the first half of the quarter, Munjal said.
The companys raw material expenditure increased over 16% at Rs 3,084 crore as against Rs 2,577 crore in Q1 2009-10. Ebidta (earnings before interest, taxes, depreciation and amortization) margin stood at 14%. The company, however, was silent on the amount of royalty payment it has made to Japanese partner Honda Motors.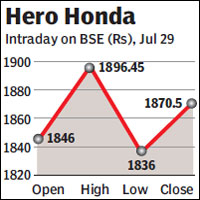 Auto analyst with Angel Broking Vaishali Jajoo said that the company's net profit was below expectations and the road ahead for Hero Honda could get a bit tough owing to rising raw material costs. Our estimate was that the operating margin for Hero Honda would be around 15%, but it is around 14% reported today (Thursday), a dip of 100 bps, she said. Jajoo said raw material costs could soften by the second half of the fiscal year.
She added that as per the results of the company there does not seem to been any change in the method of calculations for royalty payment. As we see it, there does not seem to be any difference in royalty contract between Hero Honda and Honda Motors. In June Hero Honda sold 4.26 lakh units registering a growth of 16% over the same period last year. Its rival Pune-based Bajaj Auto sold 3.16 lakh units in the same month, up 63% from the previous year.