HDFC Bank has decided to cut its base rate by 20 basis points to 9.80%, making loans cheaper for borrowers, sources said. The benchmark prime lending rate (BPLR) of the country's second largest private bank is expected to be slashed by a similar quantum to 18.30%.
However, no confirmation was received from spokespersons of the bank.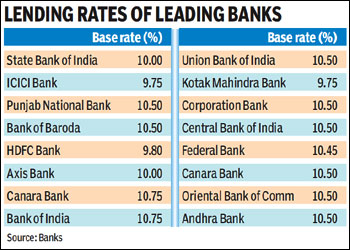 HDFC Bank will become the first bank to cut lending rate after RBI's mid-quarter review of monetary policy. The central bank kept its key policy rates unchanged at the review following which most bankers said that lending rates will not be slashed.
However, most banks had cut their base rates during April-May after the RBI reduced its Cash Reserve Ratio by 50 bps at its annual policy in April.
The country's largest lender, State Bank of India is yet to cut its benchmark rate from 10%. However, SBI has reduced the spreads over the base rate at which it gives loans to various sectors drastically.
On Thursday, SBI announced a cut in export credit by 50 bps within days of the Rbi increasing the export refinancing limits of banks.