HCL Technologies on Thursday reported a 3.7% rise in its net income at Rs 342 crore for the quarter ended June, 2010. However, the currency fluctuations affected the operating margins for the quarter. The forex losses stood at $30 million during the quarter against $14 million in the previous one.
One of the reasons for an overall drop in margins is due to the losses incurred in the BPO segment. These losses will continue to incur for the next four to six quarters, said Vineet Nayar, CEO, HCL Technologies. Simultaneously, he added that in an overall picture, the company expects the BPO segment to be a growth driver in the next five years.
The consolidated revenue increased by 17.8% on y-o-y basis and touched Rs 3,425 crore. Also the quarter witnessed a revenue growth of 7.7% sequentially and 21.5% on a yearly basis, the company said. However, the sequential dip in net income was 0.6%. Considering the euro crisis and shrinking budgets of the European government, Nayar confessed that Europe still remains a concern for HCL Technologies. The European market currently contributes 24.6 % to the company's revenues. We are concentrating on the global delievery model and that is our strategy. We plan to look at geographies like Latin America, Poland and China for growth, he said. Right now, US contributes 61.5% to the company's revenues , against 13.9 % by Asia Pacific.
The company headcount stood at 64,557 withnet additions of 6,428 this quarter. Out of its 11,000 gross hiring, 70 were laterals. The attrition rate hit a hike of 15.8% this quarter.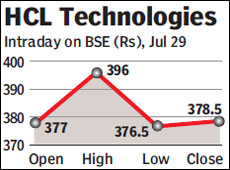 HCL plans to give salary hikes as per the industry standards of 8-10.