HCL Infosystems, which is the hardware and system integration arm of HCL, bags a contract from the Gujarat government to supply computer hardware to over 7,000 schools across the state. The contract value is over Rs 110 crore and the project is aimed at speeding development in the tribal districts of Gujarat.
According to the agreement, HCL will supply PCs with biometric finger print scanner and UPS to over 7,000 schools across the state which includes 1,000 schools under tribal department and over 6,000 schools under the education department. The company will also implement the biometric based attendance system, offer facility management and run teacher training programs to supply and implement the education software at schools.
The project will focus on Ashram Shal, Adrashnovasi Shala, Eklavaya, primary and upper primary schools in the state. HCL will also setup helpdesk at each district and a project management unit at Gandhinagar. For the project, HCL Infosystems will collaborate with the tribal and education department of Gujarat to facilitate capturing of online attendance data for both students and teachers in schools.
Under the existing programmes where the government has been giving grant for schools in the tribal area basis student attendance, this system will enable generation of real time data and effective utilisation of grants for a transparent education system at all levels in the state. The system is also expected to aid the government in tracking the education patterns and dropout rates across the region. The implementation process would initially take place in two districts out of eight notified tribal districts, comprising of 150 schools each.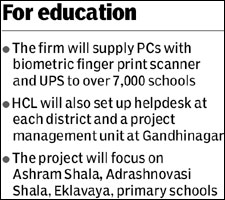 Once carried out for two months, it will then be extended to all remaining schools. Today, the need to create a progressive environment of inclusive growth is more than ever before. We deeply appreciate the governments vision and commitment to take IT to the grass root levels of the state. With focus on harnessing private initiatives in a mutually beneficial manner, such programs will lead tribal communities into the new age, said Ajai Chowdhry, chairman and CEO, HCL Infosystems Ltd.