It seems that the Haryana state power distribution utilities are on the power-save mode. They are targeting to bring down the aggregated technical and commercial (AT&C) losses by around 3% by the end of the current fiscal.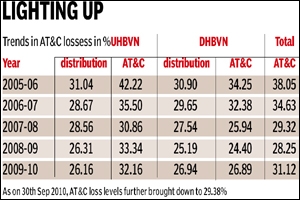 While the Uttar Haryana Bijli Vitran Nigam (UHBVN) is aiming to reduce the AT&C losses from 32.16% as in financial year 2009-10 to 29.16% during 2010-11, the Dakshin Haryana Bijli Vitran Nigam (DHBVN) has set a target of reducing the losses to 23.89% from 26.89% in the same period. The AT&C losses have
already been brought down by UHBVN to 32.16% in 2009-10 as compared to 33.34% in 2008-09. However as per
latest data available, the losses increased for DHBVN to 26.89% in 2009-10 from 24.40% in 2008-09.
The total AT&C loss (including both utilities) levels on September 30, 2010, have been further brought down to 29.68%, from 31.12% in 2009-10. UHBVN plans to bring an average reduction in AT&C losses by reducing the losses from 1.50% to 10% in different operation circles under the command area of the nigam. Various steps are being undertaken by the state distribution utilities to achieve the targets. Sources in the power department told FE that as per estimates the whole project will cost more than Rs 1,000 crore over a period of time. For the HT industrial consumers, Automatic meter reading (AMR) project is going on whereby competitive bids were invited and are now being scrutinised.
A senior official said, The focus is on the AMR project for industries that are major consumers of load. For consumers between 10kw-50kw efforts are on to set up advanced metering infrastructure. Competitive bids have been invited for the same. Work is near completion for replacement of all the electro-mechanical/defective meters with electronic meters on turnkey basis. Even the meters outside the consumer premises are being relocated.
Further the state has identified 36 towns for implementation of GIS-based consumer indexing and asset mapping under the Restructuring- Accelerated Power Development and Reforms Programme (R-APDRP) of the central government.
The plans also include installation of 3-phase automatic reactive power managers at substations to control the reactive power. At village level, the panchayats are being authorised to collect bills on behalf of the utilities and so far about 200 village panchayats have started doing so.
The distribution utilities also took several measures to detect power theft and conducted vigilance drives. A modified high voltage distribution system has been put in place that will result in annual savings of Rs 60 crore. System augmentation and strengthening works like bifurcation of feeders, creation of new substations and upgradation of existing ones have been done. Around three lakh high-quality energy meters are being purchased. Restructuring of past loans has also resulted in savings of Rs 20 crore.