With a view to promote energy conservation measures and give incentives to those taking up such measures, Haryana has set up a green energy conservation fund. The fund, created under the budget head- 2810-NCES-plan with a provision of Rs 1 crore for FY 2009-10, shall be utilised towards promotion of energy conservation measures and demand side management in the state. An energy conservation action plan is also under implementation in the state to achieve the energy saving potential of about 500 mw by 2012.
Giving details about the fund, a senior official of the Haryana renewable energy department told FE the fund would help meet the expenditure incurred by state-designated agency (Hareda) to create awareness among masses about energy conservation and to provide training to the personnel and specialists for the same. The fund would also be utilised for promotion of R&D, creating testing and certification procedures, implementation of pilot projects for efficient use of energy etc, said the official.
Other activities proposed to be carried out from the fund include meeting the matching grant to Centre-sponsored schemes and schemes of bureau of energy efficiency implemented in the state, to cover expenses incurred by Hareda in implementing provisions of Energy Conservation Act-2001 and for executing schemes for development and improvement of power supply, including generation of renewable and non-conventional sources of energy and energy conservation in the state.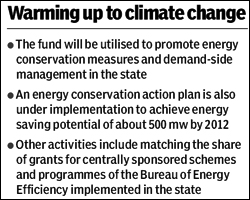 Even though an amount of Rs 1 crore has been provided for the fund, we are expecting a matching grant from bureau of energy efficiency, said the official. He further informed that as the cost of power generation via solar photovoltaic/thermal technologies is higher (about Rs 12-18 per unit) than the other sources there is a need to provide the generation-based incentives for setting up of solar power projects. He said, It has proposed to provide generation-based incentives at Rs 7 per kwh for first ten years and Rs 3 per unit for next ten years to the independent power producers (IPP) feeding electricity to the state grid through the concerned power utility.
Hareda shall invite tariff-based bids from IPPs. Once received the proposals shall be forwarded to Haryana Electricity Regulatory Commission (HERC) for notification of tariffs. Out of this tariff decided by HERC Rs 7 per kwh would be provided as generation-based incentives and balance would be provided by state utilities.