The data card market in India, which has been registering a growth of about 100% on a year-on-year basis, is set to get hotter with the onset of 3G.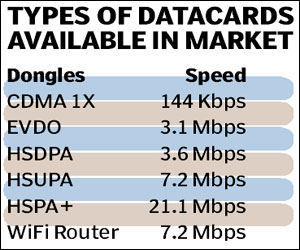 This segment, till now dominated by players like Tata and Reliance, will see GSM players like Bharti Airtel, Vodafone Essar and Idea Cellular looking at a bigger pie, since with 3G, they get extra bandwidth to offer internet on-the-go. As voice tariffs have bottomed out, market analysts feel that growth in data cards usage will not only get telcos additional moolah but also cushion the drop in average revenue per user (ARPU).
Deepak Gulati, president mobility, Tata Teleservices, said, Our revenues on data card contributes approximately 15% of the overall revenues and we expect this number to gradually increase as the demand for data cards continue to surge amongst mobile executives, growth in the penetration of laptops and the increased need for connectivity.
While CDMA players like Reliance Communications and Tata Teleservices control a majority of this market, with a share of 50% and 30% respectively, new entrant Sistema Shyam Teleservices (SSTL) is an emerging player on this turf. Estimates suggest that about 2.5 lakh data cards are sold every month. By the end of this year, data card shipments in India are expected to touch about four million units.
So far, the data card market was dominated by CDMA players, but with 3G, both GSM and CDMA providers would be on a par in providing data services on the move, said Anshul Gupta, principal analyst at Gartner.
However, penetration of 3G data cards will be gradual as operators are still rolling out their services in a phased manner. Also, all operators do not have pan India license, which limits the possibility of selling data cards. Once we see some sort of stability in roll out of 3G services and seamless connectivity, this business will reach its peak, since it has the ability to offer high speed data services, added Gulati.
The industry is of the firm belief that affordable tariff plans, prices of data cards, the convenience data cards offer in accessing the internet, and the growing needs to use data cards by business and personal travelers, will drive the future growth of the data card segment in India.
Recently, RCom has slashed its data card prices from R1,499 to R1,099 and offers unlimited data usage at affordable tariff at R169 across the country except the top 1,000 towns. Tata also has two variants costing R1,799 and R999.
ARPU in data card varies anywhere between R600-800. With increased competition, data card tariffs and prices will go down. Innovating and differentiating these services would be a key for operators. 3G data cards will demand a premium. However, due to spectrum constrains on 3G, the quality of service on 3G data cards will be hampered, Abhishek Chauhan, senior consultant, ICT Practice, Frost & Sullivan, South Asia & Middle East.
Vodafone Essar and Idea have already launched 3G ready USB modem. We are determined to provide superior mobile internet experience. We are the only operator in GSM space which is aggressively expanding data card market and currently largest importer of data card in GSM space, said an Idea Cellular spokesperson.