Domestic consumption could boost India's slowing economy to 6% growth this year, but the country may still fail to reach that level if it does not follow through on reforms to encourage investment, the Asian Development Bank (ADB) said Tuesday.
ADB's forecast for India is lower than the 6.1-6.7% estimated by the finance ministry's Economic Survey in February, but broadly in line with 5.7-6% forecast by leading brokerages such as Citi, Morgan Stanley and HSBC.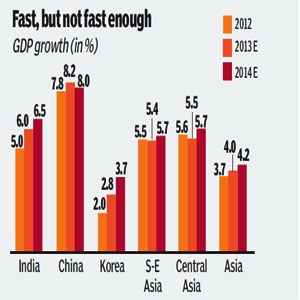 Just a few years ago, India was seen as a rising economic power that could even rival China, with growth of over 9%. However, growth last year slowed to its lowest rate in a decade, estimated by the government at 5%.
"India's growth has the potential to pick up from 5.0% in 2012 to 6.0% in 2013 and 6.5% in 2014, but the South Asian giant must create a more favourable environment for investment if it is to sustain this higher rate," ADB said in its report for 2013.
The Indian economy has slowed sharply from 9.3% in 2010-11 to 6.2% in 2011-12 and further to 5% last year after policy paralysis stalled infrastructure projects even as high borrowing costs and turbulence in the global economy choked industrial output and exports growth.
Though recent initiatives like the creation of the Cabinet Committee on Investment to expedite government clearances for large projects are a step forward, ADB said the government has to take tough economic and politically difficult policy decisions related to delays in environmental clearances, parliamentary approval of the land acquisition bill that involves complex issues, improving the availability of fuel sources and infrastructure-linking fuel sources with power generating plants and attaining fiscal consolidation without sacrificing capital expenditure. The monetary policy is likely to be eased further in 2013 and as progress is made on bringing down inflation, the extent of easing will be conditioned on progress in reducing the current account and budget deficits, it said.
While meeting the disinvestment, telecom spectrum auction and revenue targets would depend on favourable market conditions, ADB said "the adequacy of the allocation for subsidies depends critically on the governments willingness to continue regular revisions of diesel prices and to adjust the price of urea. Adverse developments from baseline assumptions on global prices of crude oil and fertilizers are risks, as is the exchange rate."
ADB also warned that India's current account deficit, at record 6.7% of GDP in October-December, may remain elevated as invisibles surplus is likely to moderate with weak recovery in advanced economies and low spending on items such as software services.