Growth in non-food credit rose 16.7% y-o-y in the fortnight ended May 18, 2012, taking the outstanding credit to R45,42,870 crore, data from the Reserve Bank of India (RBI) showed on Wednesday. Since the start of the current financial year, loan books of banks have contracted by over R71,000 crore, compared with the corresponding period of 2010-11. Loan books have contracted by over R2,000 crore in the last fortnight. Deposits in the fortnight grew a sluggish 13.8% y-o-y, taking the outstanding deposits to R60,58,294 crore. Since the beginning of 2012-13, outstanding deposits contracted by 1% or R54,000 crore.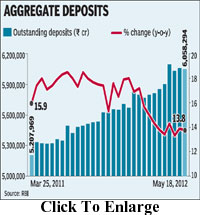 Credit growth has stabilised at 16% in the last 10 fortnights, except for the last fortnight of 2011-12 when it shot up to 18% y-o-y, reflecting the aggressive lending by banks in a bid to show better balance sheets at the end of the year. On April 17, the RBI cut repo rates by 50 basis points, following which almost all banks decreased their base rates by 15 to 25 bps, indicating a reversal in the rate cycle. Most banks base rates are now around 10.50%, except State Bank of India and some private sector banks, which have lower base rate than the industry average.
While declaring results, bankers were confident of better credit offtake in the current financial year. Federal Bank said it expected faster loan growth in the region of 20-22%. the public sector bank Bank of Baroda said it is expecting a credit growth 1-2% more than the industry average. The RBI has projected a loan growth of 17% for 2012-13 while the deposit growth is projected at 16%.
While banks like Dena Bank are expecting a credit growth of 22% and deposit growth of 20% in 2012-13 with growth primarily coming from MSME, retail and agricultural. They are expanding their branch networks, particularly in the tier 2 and 3 regions, where they do not see a slowdown. Bank of India expects a 16-17% growth in deposits and about 18% growth in credit in line with RBI expectations.
With many banks adding branches, the growth is expected primarily from loans to individuals and SMEs. For example, ICICI Bank expects 20% credit growth this year mainly because of demand from individuals for homes and cars. The sluggish demand for loans reflects slowing economic activity and the increasing risk aversion among banks in the wake of rising NPAs.
However, the concern continues to be on the deposits growth. Deposit growth mobilisation continues to remain an area of concern for banks and needs to be monitored closely. A prolonged period of muted deposit growth will postpone/ limit the cut in deposit rates by banks, while most banks have cut base rates by about 25bps. A prolonged period of slow deposit growth will keep liquidity tight and cost of funds high, thereby pressuring margins, a Standard Chartered report said.