Interest rates on fixed deposits are not likely to come down immediately despite monetary easing by the RBI as banks are still on the hunt to garner more deposits.
With other investment avenues, such as gold and mutual funds, taking the charm away from fixed deposits, bankers are struggling to attract retail depositors.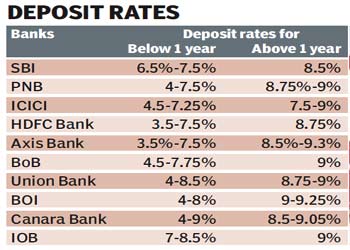 We are facing a lot of flight of deposits, particularly to mutual funds because, today, banks are loaded with handicaps; our interest is taxed at the highest marginal rate, whereas the mutual fund investments, even in debt funds, are taxed at a very benign rate of 10%. They also have better liquidity arrangements, said SBI chairman Pratip Chaudhuri.
We cannot assume that deposit rates will come down just because lending rates fall, said ICICI Bank MD & CEO Chanda Kocchar. We have to understand that deposits are growing at a rate lower than credit growth rates. Moreover, the composition of deposits is also growing in a different manner and the rate of growth in current account savings deposit (Casa) deposit is not as high as the growth in other deposits, she said.
There would be some impact on NIMs, but to some extent, how you manage it would be important. The profile of deposits in the banking system has shortened with respect to maturities. So, that means more and more deposits will come up for repricing soon. The price at which these were contracted were higher than the prices prevailing today. This may be a benefit, said Bank of Baroda CMD SS Mundra.
Private sector lenders ICICI Bank and Axis Bank recently raised deposit rates by 25-30 bps on longer term deposits, citing asset-liability mismatches as a reason.
The deposit growth figures as per RBIs latest data for the the fortnight ended January 11, 2013, stood at 13.28% y-o-y at R65,38,595 crore. This was much lower than the RBI projection of 15% deposit growth for the full financial year.
Going ahead, banks will need to mobilise an additional R2,25,000 crore of deposits to reach the RBI's forecast of 15% credit growth by the end of this year. With the RBI reducing repo rate and CRR by 25 bps each, banks are hoping to reduce their lending rates in the next few days.
Bankers said the likely impact on net interest margins, which may arise due to lower lending rates and steady deposit rates, would not be big enough for them to absorb. However, they will surely be taking a call on reducing deposit rates in the long term.
Earlier last month, some small and medium sized lenders like Dena Bank, Federal Bank and Canara Bank had raised their deposit rates on certain buckets, citing asset-liability mismatch.