Union Railways Minister D V Sadananda Gowda addresses a press conference after presenting the Rail Budget 2014-15. (PTI)
Now you can look forward to working at a business centre onboard a train, enjoy Wi-fi connectivity or try regional cuisines if rail minister Sadananda Gowda has his way in implementing a range of modern passenger amenities.
In a welcome move, Gowda has promised to deliver the much-needed cleanliness that railway stations are bereft of, apart from enough restrooms, foot overbridges, escalators and battery-operated cars to ferry senior citizens.
Many of these amenities would be through the public private partnership (PPP) mode as the railways faces a severe fund crunch. An expert panel led by Sam Pitroda, on modernisation of railways, had envisaged PPP investments to the tune of R4.13 lakh crore over the next 10 years.
Allowing private firms to set up and operate these facilities on railways' premises, in lieu of a management fee, looks like a viable option considering the efficiency and management skill that the private sector could infuse into the country's largest employer.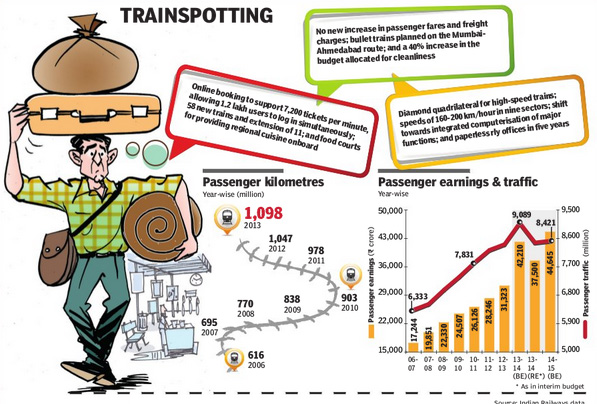 The railways will also explore roping in corporate houses, individuals, NGOs, trusts and charitable institutions to provide passenger amenities. That would give many companies, including large state-owned enterprises, a chance to adopt certain stations and provide better facilities using their funds for CSR.
I am aware of the sorry state of affairs of cleanliness in trains and stations. The railways has been attaching high priority to cleanliness, but it has always been a challenge to maintain acceptable level of cleanliness owing to the sheer number of passengers handled at the stations, said the minister.
The commitment to offer a clean environment to customers is clear from Gowda's plan to step up the budget allocation for cleanliness by 40%. Gowda said the railways would outsource cleaning activities at 50 major stations to professional agencies and set up a separate housekeeping wing.
Soon, one may see more closed circuit television cameras across railway premises monitoring the upkeep. Customers will have access to dedicated numbers to file complaints or seek help. The overall idea is to give the traveler a better experience, including cleaner and better quality bedrolls in AC coaches.
The online reservation system is also set for a revamp. A next-generation e-ticketing facility would enable booking 7,200 tickets a minute to allow 1,20,000 simultaneous users. Coin-operated auto-ticket vending machines too would be installed at stations. The online booking of platform tickets and unreserved tickets is expected to rid passengers of a major inconvenience.
Improving the quality of food served at railway stations and in trains is also one of the improvements that Godwa has promised. As per the plan, passengers would be able to e-book railway retiring rooms as well as order ready-to-eat meals of major food retailing brands. By setting up food courts at major stations, the railways would let travellers order through text messages and emails various regional cuisines when onboard. The first routes where this facility would be made available are New Delhi-Amritsar and New Delhi-Jammu Tawi sections.
Gowda envisages paperless Railway offices in future, where even reservation charts would be digitally displayed. Real-time tracking of trains, mobile-based wake-up call for passengers, destination alerts and station navigation information system are also on the cards. A proposed computerised system is expected to improve the accuracy of railways' parcel handling.