As wheat begins to arrive in Haryana mandis, state wheat procuring agencies are gearing up to store the fresh stock. Though the state has old stocks lying in godowns, officials of the procuring agencies seem confident of no storage problems this year.
Moreover, the wheat arrivals are yet to pick up in the 367 odd mandis, so the actual situation can be analysed once the procurement is in full swing.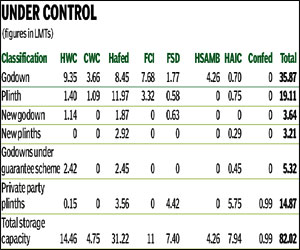 As per a Food Corporation of India's (FCI) official, last year as on March 31 there were stocks of 49 lakh metric tonnes (LMT) 38 LMT wheat and 11 LMT rice lying with the corporation.
Rabi season 2010 witnessed a smooth movement of stocks and the storage was also comfortable. This year, we have 44 LMT of stocks, including 30 LMT of wheat and 14 LMT of rice. No major problem is foreseen in storage of fresh stock. We are prepared to handle stocks of up to 65-67 LMT this year. But wheat arrival from UP will be a major factor. The state authorities are already taking steps to keep it under control from the beginning of the season, the official said.
However, the state is expecting a bumper harvest this year. BS Duggal, additional director agriculture (extension), said, Bumper production of wheat is expected at 113 LMT compared with 105 LMT last year. We have done field surveys and the harvest is quite good. It can even go upto 115 LMT. Out of this, around 65 LMT is expected to arrive in the mandis. Last year the procurement figures touched 64.29 LMT. The area under wheat crop this year is 25.12 lakh hectares.
Commenting upon the weather he said, The harvest is good as the climatic conditions remained favourable throughout the year. The temperature has not risen much even now. Though it has delayed harvesting and the mandi arrival is yet to pick up.
Haryana State Co-operative Supply and Marketing Federation (Hafed) has made arrangements for fresh stock by hiring spaces from the private parties. An official told FE, We have around 25 LMT of storage space available with us, including both godowns and open plinths.
Old stocks of around 12.5 LMT are also lying with us. Hafed is also undertaking expansion of storage space with around 40 LMT of space to be constructed within the next two years. Out of this, 4 LMT of space has already been sanctioned by the government and another 6 LMT will soon be sanctioned. The rest of the space will go in for re-tendering.
This year the Haryana food and supplies department and Hafed will purchase 30% and 35% of wheat that arrive in the mandis respectively.
Similarly, FCI will purchase 10% and Haryana Warehousing Corporation will 9% wheat. Haryana Agro Industries Corporation and CONFED will purchase 8% each of the total arrival of wheat in the mandis.