The government is discussing a host of policy options to combat a sharp and sustained surge in capital inflows, anticipating that global investors who shun the dollar could park their funds in markets like India. Policymakers have started worrying that if the country, with its rather shallow capital markets, would have the capacity to absorb such an influx of capital without being shaken. Besides, there is the looming spectre of inflation, which warrants sound management of liquidity without hurting the seeming economic recovery.
Official sources, who wished not to be identified, told FE that if capital flows keep rising in the coming months, the government, in concert with the RBI, might put a vigilant mechanism in place for screening short-term capital flows and even roll back some measures taken since September last year to help the external commercial borrowings (ECBs) of Indian companies.
India has received capital flows of over $42 billion this yearmore than four times the net inflow of $9.1 billion in the whole of the last fiscal year.
The government is concerned that the rupee may harden against the dollar and the euro and would pull down the exports, which had shrunk 31% in April-August 2009. More than two-thirds of Indian exports are to OECD countries; this makes the rupees relative strength against the two prominent currencies of the region a concern for exporters.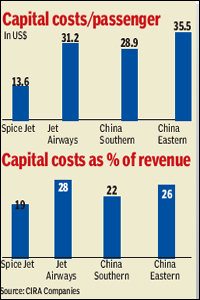 The government has taken note that many emerging economies have resorted to policy action to stem the appreciation of their currencies. Last week, Brazil imposed a 2% financial transactions tax on foreign investment flows to its stock market and local fixed-income securities. This measure has temporarily stemmed the strengthening of Brazilian real (which had rallied 34% against the dollar this year), although there still is the fear that the real would regain strength in the coming months.
Making matters worse for countries like India and Brazil is the yuans decline against both the dollar and the euro, as its exchange rate is fixed and pegged to the dollar.
On ECB, the likely policy measures include the re-imposition of interest rate ceilings on these borrowings and restrictions on the use of ECB funds to foreign currency expenditure. These measures would mean a partial but significant rolling back of the ECB policy relaxations from late last year. The interest rate ceilings on NRI deposits were raised by up to 125 bps in tranches after September 2008. The yearly ceiling on ECBs being used for rupee expenditure was raised from $50 million to $500 million in September 2008.
Commenting on the capital flows situation, Crisil chief economist DK Joshi said, Our ability to absorb foreign money is rising. Yet, a surge in short-term capital flows could still be a problem as the markets are not deep enough and could get swayed easily. Although the solution would be to deepen the markets, especially the bond market, it might not be a bad idea to impose certain capital controls to prevent de-stabilisation of the markets if such an eventuality arises. Yet, I hope, there wouldnt be a repeat of the situation (of excessive inflows of hot money) as we had seen in 2007.
The Prime Ministers economic advisory council (EAC) has recently forecast an overall positive balance on the capital account of $57 billion for 2009-10, which implies that the central banks foreign currency reserves would soar by $32 billion, with the balance being used to finance the $25-billion deficit in the current account. EAC chairman C Rangarajan called this a comfortable level of capital flows and said that unless the flows were very strong, the present policy could continue. However, many analysts whom FE spoke with feel that with the global economy recovering faster than expected, a sustained surge in capital flows into India, much in excess of the EAC estimate, cannot be ruled out.
Analysts also expect the rupee to appreciate, going forward, on the back of a recovery in the domestic economy and weakening dollar. The rupee was trading at Rs 46.92 to a dollar on Tuesday evening, slightly weaker than Monday close of Rs 46.64.
This (rising rupee) would further attract foreign investors as its raises return on their portfolio, said Naresh Takkar, managing director of rating agency Icra Ltd. Citi Indias Asia Macro and Strategy Outlook says, On the rupee, our core view remains that of a structural appreciation in the currency. This is aided by continued dollar weakness. We maintain our estimate of the INR at Rs 44 a dollar by March 2010 and Rs 41 a dollar by March 2011.
Officials also said this weakens the case for a rate hike by the RBI as that would invite larger flows from the global economy sloshed with liquidity. RBI governor D Subbarao has highlighted this while speaking in Istanbul in early October. In view of incipient inflationary pressures, policy rates in our case may have to be tightened ahead of those in advanced economies. The resultant larger interest differential may attract larger capital inflows, Subbarao said. Will capital inflows be modest or turn into a flood as in 2007 The latter concern is particularly relevant in view of abundant liquidity in the major advanced economies, he said.
FIIs have pumped in a record $14.08 billion into the Indian equities market so far this year, compared to an outflow of $11.15 billion in the same period last year. They invested $1.28 billion in the debt market so far this year, compared to an investment of $1.7 billion in the same period last year, Sebi data showed.
Another $14.14 billion came in as FDI between April and August 2009, down from $14.64 billion in the same period last year. Further, Indian companies raised $7.32 billion in ECBs between April and September this year compared to $3.34 billion during the same period last year, according to RBI data.
India received $5.3 billion in NRI deposits and global depository receipts and American depository receipts between April and September this year.