A fierce competition among investment banks betting big on the UPAs ambitious disinvestment plan could result in record savings on transaction charges for the government. One of the investment banks bidding to win the mandate of National Mineral Development Corporations (NMDC) stake sale has quoted transaction charges of as low as 0.001%, or Rs 1 for every Rs 1,000 raised from the public. UBS is understood to have offered to manage the NMDC follow-on public offer at such low charges, upping the ante in an already tough battle among banks.
Besides, the government has also asked the investment bankers to bear all the advertising, legal and other incidental expenses incurred on the FPO.
The government is estimated to raise Rs 14,000 crore by offloading a portion of its stake in NMDC. This means the government will have to pay just about Rs 14 crore as fee to the consortium of four investment banks that are expected to be given the mandate to manage the iron ore producers FPO.
This would only be a tenth of the fees banks would have normally charged for a public issue. Investment banks typically charge between 1% and 3% of amount raised by any company during a public offering.
According to official sources, ICICI Securities, which was shortlisted as one of the managers for the FPO, has pulled out from the race as rivals have kept the charges extremely low. Kotak Mahindra is also not too keen on managing the FPO.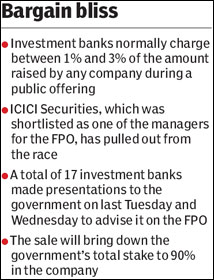 The banks likely to win the NMDC mandate include Morgan Stanley, UBS Securities, RBS Equities and Citigroup. A total of 17 investment banks made presentations to the government on last Tuesday and Wednesday to advise it on the follow-on public offer.
The government plans to divest 8.38% of its total stake in countrys largest iron ore producer, bringing its total stake down to 90% in the company, with the remaining 10% being sold to the public. NMDC on Tuesday notified the Bombay Stock Exchange the proposed disinvestment will be done in this financial year.
NMDC stake sale could prove the single-largest issue by value and the government is keen to realise the sale proceeds by March 2010. Currently, the government holds about 98.38%, while the public holds the rest.
The four investment banks will soon launch the global road shows to market the issue in key markets across the US, Europe and Asia. The government is considering an auction method for stake sale to institutional investors, wherein investors would be free to bid at any price above the floor price, and the allotment would be on a top down basis.
NMDC has estimated cash reserves of around Rs 12,000 crore and has lined up expansion plans worth Rs 26,000 crore. NMDC shares gained 2.8% ending at Rs 425.75 on the BSE on Tuesday.