With the rising trend in retail prices due to concern over a likely fall in production of pulses, thanks to monsoon woes, the government is mulling over options that include distribution of subsidised pulses through the public distribution system and increasing allocation to states.
Besides, the food ministry has asked the Forward Markets Commission (FMC), the regulator of commodity exchanges, to keep a close watch on futures trade in agricultural commodities.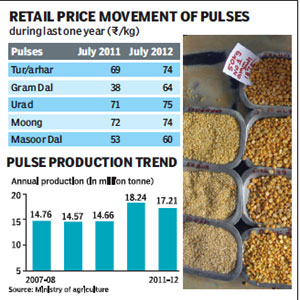 At present, the food ministry is in talks with the agriculture ministry for relaunching the scheme for distribution of pulses at a subsidy of R20 per kg through PDS to below poverty line (BPL) families.
The government had launched the scheme in 2008 for both above poverty line (APL) and BPL families where subsidy component was only R10 per kg.
The Cabinet Committee on Economic Affairs would soon decide on increasing the subsidy.
According to a food ministry analysis, retail prices of tur, gram dal, urad, moong and masoor dal have risen during the last one year while the sharpest price increase has been witnessed in gram dal where the retail price in Delhi has moved from R38 a kg last year to R64 a kg at present, a increase of 68%.
Prices of other varieties of pulses have also risen marginally during the last one year.
We will provide subsidised pulses through PDS and keep a close watch on prices, KV Thomas, union food minister, said.
Besides, he said the government may impose ban on futures trade in agriculture commodities if prices start rising alarmingly, he said.
We have asked FMC to carefully watch the price movement of some agricultural commodities and see to it that there is no unnecessary price fluctuation, Thomas said. FMC is monitoring the price movement in five agricultural commodities potato, chana, soyabean, soya oil and mustard seeds.
According to the agriculture ministry, the total coverage under pulses so far is around 4 million hectare against 5.8 million hectare reported during same period last year, which is a huge decline of more than 45%.
Key pulses growing states which have witnessed decline in acreage include Madhya Pradesh, Maharashtra, Rajasthan, Gujarat and Uttar Pradesh. In the states such as Andhra Pradesh and Karnataka, acreage has increased due to sufficient rainfall.
India is worlds largest producer, consumer and importer of pulses. During 2009-10, when the rainfall was deficient, the pulses production declined to 14.57 million tonne (mt), while last year the country produced 17.21 mt of pulses.
Last fiscal, the country imported about 2.8 mt of pulses, mainly tur and urad, from countries including Myanmar, Kenya, Tanzania, Mozambique.
The domestic demand is estimated at close to 19 mt.