Illegal mining could soon be brought under the National Investigation Agency ambit as the government reckons it is an organised crime that requires expertise to unravel. On a mines ministry request, the home ministry is considering changing the NIA Act to empower the anti-terror agency to investigate illegal mining, official sources told FE.
The mines ministry also plans to permit the common man to file complaints against illegal mining in the proposed Mines and Minerals Development and Regulation Act. The ministry says nearly 80,000 cases of illegal mining were detected by states between January 2006 and June 2009.
At a recent panel meet on illegal mining, mines secretary Santha Sheela Nair expressed grave concern at the rising cases of illegal mining. The mining secretary felt that illegal mining should be bought under the ambit of the NIA if such cases are related to organised crime and internal security, said an official. At the meeting, the mines ministry also requested the states to devise action plans to curb illegal mining.
Home ministry officials assured the panel that the proposal would be given full consideration. However, the home ministry rejected some states demand for deploying central forces in mining areas.
The NIA Act is operational from December 30, 2008. The agency can investigate any terror-related offence, without taking the states permission.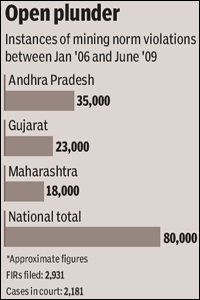 Between January 2006 and June 2009, Andhra Pradesh accounted for over 35,000 instances of mining norm violations, followed by Gujarat with more than 23,000 cases and Maharashtra with nearly 18,000. However, only 2,931 FIRs have been filed, while 2,181 court cases against illegal mining activity are being tried in courts.
The mining regime under the proposed MMDR Act seeks to discourage illegal mining in two ways. Firstly, violators will have to face hefty fines and even imprisonment. Secondly, any company that has been subjected to action will lose its prospecting licence and will be banned from mining activity for five years.