With slowdown-induced tepid response to public-private partnership (PPP) projects in the highway sector and the consequent revisiting of the conventional EPC model, the government's expenditure on highway construction has nearly doubled in the two years to end-FY14.
According to the National Highways Authority of India (NHAI) data, government spending on highway construction stood at about R11,000 crore in FY12, which increased to R14,590 crore in FY13 and further to R21,290 crore in FY14.
On the other hand, private sector expenditure saw a decline during the same period. In FY12 private sector expenditure was around R26,000 crore which slipped to R19,887 crore in FY13 and revived a bit to R21,155 crore in FY14.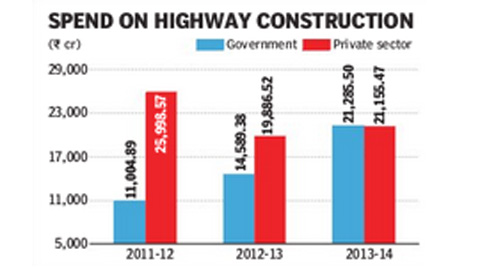 Experts say the dismal scenario in the PPP segment is unlikely to improve unless the model is made more attractive and practical, a task before the new government. On Monday, the NDA government promised fast-track, investor-friendly PPP regime for infrastructure sectors.
Delays in environment and forest clearances, unavailability of land with the highway authority as per the schedule and tightening of liquidity by the banking sector have led to a fall in private investments, while inadequate toll collections added to the investors' woes.
Besides, the stressed balance sheets of highway developers also added to the poor performance of private sector. But efforts like premium rescheduling and streamlining of bottlenecks at environment ministry of late have led to some positive change in sentiments. Limited launches of bids and timely realisation by the government to shift to cash contracts also resulted in performance appraisal for highways.
"Some revival of investments happened in FY14 because the road ministry and NHAI got some relief in the sector by allowing premium rescheduling, streamlining of environment and forest clearances etc, but there is still scope for further issues to be resolved. Until then, developers will not be interested in investing further," said a CEO of a highway developing company on the condition of anonymity.
This trend of government expenditure increasing is along expected lines. In the past three years, there was a downturn in investment sentiment by the private sector due to a variety of reasons. However, we are likely to see a reversal of this trend soon, with imminent bidding of 11 priority projects of about 1,300 km worth R18,000 crore in coming days.
It is understood that these will be bid after resetting of various terms and conditions both contractually and with in the government format, which is likely to boost sentiment in the private sector," said Vinayak Chatterjee, chairman of Feedback Infra.
According to the road ministry, at January-end this fiscal, construction of highways through the PPP mode stood at just 56% of the full-year target at 4,460 km while new project awards were a dismal 14% of the target, or 9,638 km. Pertinently, in the previous two years, construction of these roads exceeded the targets 107% of the target was achieved in 2012-13 and 100% in 2011-12.