In an attempt to ensure better understanding of foreign direct investment (FDI) related procedures amongst prospective investors, the department of industrial policy and promotion (DIPP) is exploring the possibility of doing away with Press Notes released in the past two decades, and instead have a single platform that specifies overseas investment rules. This would be done by amalgamating provisions of the Press Notes in to FDI Rules.
The move comes at a time when Prime Minister Manmohan Singh has called for simpler FDI-related guidelines to attract foreign investments into the country.
Commerce and industry minister Anand Sharma has instructed DIPP to make FDI norms simpler by making them available in a single platform. The industry department will soon initiate the process and will complete the task in a time-bound manner, said an official familiar with the matter.
India is considered to be amongst the top three most attractive nations for FDI. A report by United Nations Conference on Trade and Development (UNCTAD) titled World Investment Prospects Survey 2009-2011 has ranked India as the third most preferred country for FDI.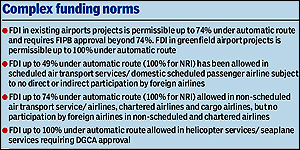 Currently, FDI-related guidelines are scattered over more than 175 Press Notes released between 1991 and 2009. India received nearly $ 158 billion FDI in this period.
These Press Notes not only fix investment caps on sectors like telecommunication or media, but also specify how foreign equity inflows will be treated.
Often foreign investment guidelines prescribed by the new press notes modify the old ones released in an earlier year. But since the press notes are spread over various years, many a times investors get confused.
DIPP is aware of the problems associated with not having a single platform on FDI norms.
Because of the large number of Press Notes spread across many years, only specialised experts understand the norms associated with investments, the official added.
This means that the Press Notes released till now will no longer exist under the new regime and instead, foreign investors will have to refer to the FDI rules.
After compiling the operational Press Notes, the DIPP will put up the draft FDI rules for public comments. This way, any error or omission related to any sector will be rectified, the official said.
Moreover, the language and the wording in the new rule book will be simpler for better comprehension of investors.
Even though the format and the structure of the FDI rules are yet to be worked upon, it could be on the same lines as that for other policy related topics like SEZs or direct taxes.
Officials said this could be done through separate chapters for different aspects of FDI, with definitions and explanations at the beginning.
DIPP will also have to take a call on if to continue with the process of releasing new press notes, or amend the FDI rules for future policy changes.
The DIPP initiative comes at a time when there is an increasing realisation within the government for the need to have simpler policy related regime.
Our policy (on FDI) will be guided by the desire to make India even more attractive for foreign direct investment. We are particularly keen to rationalise and simplify procedures so as to create an investor friendly environment, Prime Minister Manmohan Singh said at the India Economic Summit, which was co-hosted by DIPP and CII.
Policy advisors agree. Arguing that the murkiness in the process of foreign investment proposals was a dampener, Prime Ministers honorary economic advisor Raghuram Rajan vouched for simpler and clearer FDI rules at the India Economic Summit.