The Union commerce ministry plans to present Prime Minister Manmohan Singh with a list of issues in trading with the US, which the PM will take up with President Barack Obama during his November visit to India. At a recent trade review meeting of the World Trade Organisation (WTO) held in Geneva, the Indian side presented a list of eight concerns to US trade ambassador Michael Punke, ranging from the hike in fees of H1B and L1 visas to the proposed legislation on foreign manufacturers liability. Last month, industry association Ficci too had raised similar concerns with the US trade ambassador, signalling the convergence of business and government concerns over what are perceived as protectionist policies in the worlds largest economy.
There are several issues on trade and if India and the US need to reach a new level in trade relations, then these have to be sorted out, said a government official.
At the WTO trade review meeting, Jayant Dasgupta, Indias ambassador to WTO, presented a detailed list of New Delhis concerns. Among some of the key issues raised are high tariff and non-tariff barriers textiles, food products, footwear, leather goods and automotive components. New Delhi also said that since the US does not recognise any international standards, it forces Indian exporters to adhere to multiple regulations.
India will consistently nudge the US to lift the restrictions on trade and urge other countries to follow suit since it would impact global trade, a source said. He added that these issues would be raised at the Seoul meeting of G-20 meeting in November.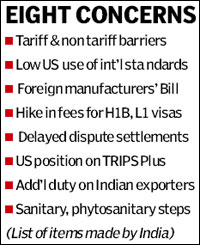 The proposed legislation which will force foreign manufacturers to get an agent registered in the US to take all the liabilities has also ruffled feathers in India. Dasgupta said that the Foreign Manufacturers Liability Bill currently pending with the US Congress could be in breach of international trade treaties. Even the European Union had raised similar concerns with the legislation earlier.
India is also wary of the Buy America policies followed by the US besides the steep hike in visa fees. Assistant secretary general of Ficci Manab Majumdar welcomed the Indian move as an attempt to address trade issues effectively. It is necessary to use every possible forum including the trade policy review mechanism of WTO to put across Indias concerns about trade barriers encountered with our partner countries. Last month, Ficci had raised similar concerns with the US trade ambassador, he said.
Last month, commerce minister Anand Sharma had minced no words in attacking the US proposal to hike visa fees: It is estimated that the Bill will have an additional cost implication of over $200 million annually and an adverse impact on the competitiveness and commercial interests of Indian companies sending professionals to undertake projects locally for American customers in the US, he wrote to US trade representative Ron Kirk.