Googles acquisition of Motorolas mobile business will benefit the latter in the medium to long term, say experts. Motorola so far has met with little success in the proliferating Indian handset arena.
However, Googles brand name, coupled with new and customised Android releases exclusive to the handset manufacturer, might boost its position. At present, Motorola ranks eighth in the worldwide handset space with around 2.4% market share. On Aug 15, Google acquired the mobility division of Motorola for $12.5 billion.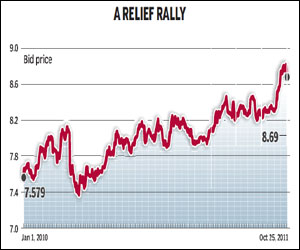 Abhishek Chauhan, senior consultant, ICT Practice, Frost & Sullivan, South Asia and Middle East, said, Motorola needed a big brand push like this. They already have a set distribution and marketing channel. In India, it should help to lever Motorolas position. Google is a cash rich company and they might allocate some marketing funds for India.
Google had come out with branded smartphones, Nexus One and Nexus S, with HTC and Samsung, respectively. It seems unlikely that the company would look beyond Motorola if it decides to launch a third model in this series, say industry experts.
Asia (excluding the EMEA region) accounted for a mere 4% of Motorolas revenues in the June quarter 2011. It sold around 10.2 million worldwide in the June 2011 quarter.
Naveen Mishra, lead analyst, telecoms practice, CyberMedia Research said, Motorola Mobility had been turning in poor business and financial numbers over the last two to three years. The 17,000 patents that Motorola Mobility has will help Google create and launch a very differentiated set of smartphone products.
The headstart it is expected to provide Google to effectively compete against rivals like Apple, Research in Motion, Microsoft-Nokia and Samsung by riding on the market knowledge, brand image and distribution reach of Motorola Mobility, without having to build a new business from base up, Mishra added.
According to Gartner, Android will move to become the most popular operating system (OS) worldwide by the end of 2011, and will build on its strength to account for 49% of the smartphone market by 2012.
As per the Gartner report, android has a worldwide market share of 38.5%. Android was launched by Google in 2007.
According to Anshul Gupta, principal research analyst, Gartner India, Google has shown no signals of it getting into a device market however, it will eventually do that. This year end, smartphone sale in India is likely to reach 9% of which around 5% will be based on the android platform.